York Pennsylvania Railroads- Maryland & Pennsylvania RR

August 2003
---
An Unoffical Site!
York Railway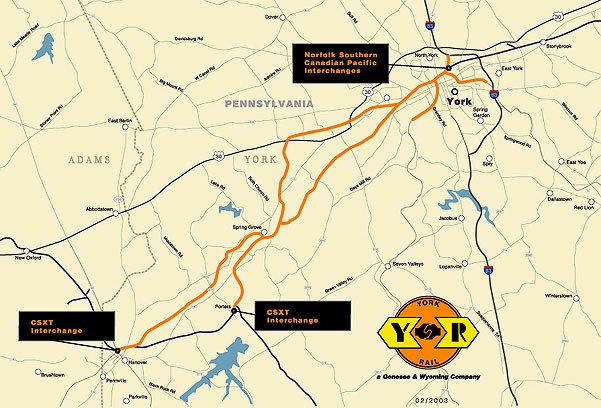 York Railway Company (YRC) is a 40-mile short line railroad located in eastern Pennsylvania, providing rail transportation and distribution services in the heart of the Mid-Atlantic region. The YRC is the result of the merger of the Maryland and Pennsylvania Railroad Company and Yorkrail, Inc. and is headquartered in York, Pennsylvania. We serve approximately 40 direct rail customers and an additional 20 through our transload and distribution services division, York Rail Logistics (YRL). Source: Genesse & Wyoming website http://www.gwrr.com/


Lincoln Yard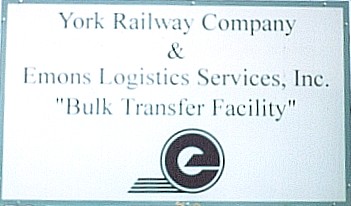 ..


Top photo is the newer transloading facility. Bottom photo is an engine house that has a=WM= appearance. Wonder what markings are underneath the paint on the boxcar storage shed?

With a network of more than 80 terminals, TRANSFLO Terminal Services specializes in services focused on the safe, efficient transfer and handling of bulk products. Forward positioning of bulk products allows you to respond to customer needs rapidly and accurately. TRANSFLO's processes allow you to do it safely and contamination free. With a network of more than 80 terminals, your products can be within 50 miles of every major metropolitan market east of the Mississippi.TRANSFLO Logistics offers you door-to-door transportation at rail economics. Your shipment network can be optimized and managed to stretch your transportation dollars while retaining the high performance standards your customers expect.
Source www.csx.com<



Terminal Information

Operator: York Rail Logistics
Address: 2790 W. Market Street
City, State Zip: York, PA 17404
Car Spots: 100

Terminal Contact Information

Contact: Mark Darland
Phone: 410-613-6038
Fax: 904-245-2156
E-mail: mdarland@transflo.net
Position: Senior Regional Business Development Manager
Tell him Dave sent you


Top photo is at west entrance to the yard. Bottom photo shows the Lehigh White Cement facility immediately to the east of the yard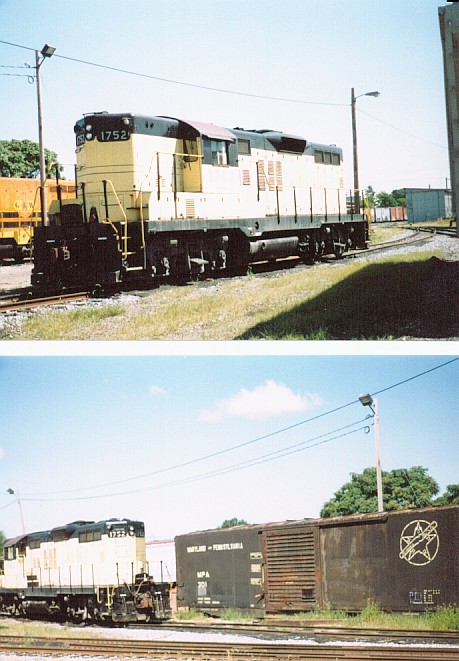 I never get tired of looking at GP9s.

<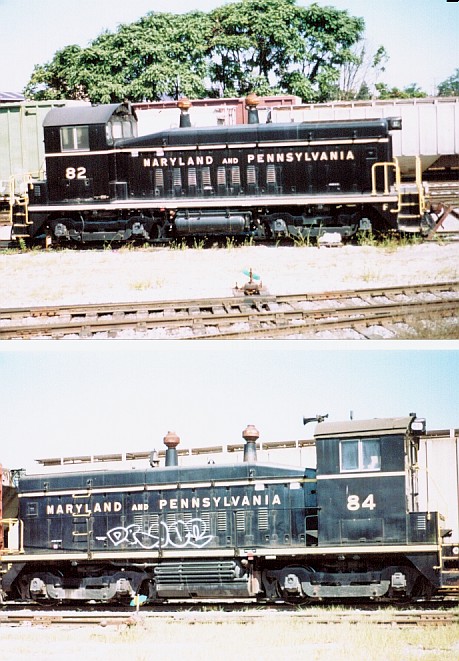 I have seen 81 at Strasburg. Here is 82 and 84. What happened to 83?

<

Randy Miller comments on the above: The 83 went to the Stewartstown RR and has since been moved to Jim Thorpe, PA. The gray boxcar is an old WM car. If you look at it right you can see the full WM lettering. I have the number written down somewhere and I'll give it to you when I find it. I think it was in the 27000 series. The MPA boxcar on the ground was a Pullman Standard car. If anything the Emons shop might have made it into a 50' from a 40'. Take a good look at the MPA boxcar. They used the wrong stencil on it when they repainted it back in the 80's. They used a rib side stencil instead of a smooth side one. This give the star a few extra points on it. Both cars in the series, the 300 and the 301 were painted like this. And Lincoln Yard has always been called Lincoln Yard. In fact, Emons had a sign up that said Lincoln Yard on it and G&W still refers to it as Lincoln Yard.

Thanks to Randy!


Other York County Railroad Pages
Western Maryland Railway and Related Rail Links
Western Maryland Railway Yesterday and Today
World's Greatest Railroads!