York Pennsylvania Railroads- Maryland & Pennsylvania RR

August 20, 2003
---
An Unoffical Site!
York Railway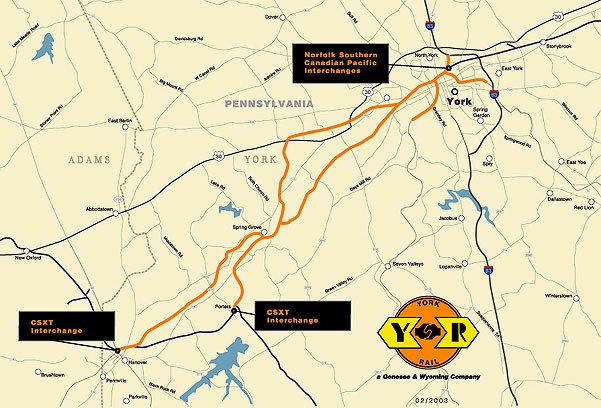 York Railway Company (YRC) is a 40-mile short line railroad located in eastern Pennsylvania, providing rail transportation and distribution services in the heart of the Mid-Atlantic region. The YRC is the result of the merger of the Maryland and Pennsylvania Railroad Company and Yorkrail, Inc. and is headquartered in York, Pennsylvania. We serve approximately 40 direct rail customers and an additional 20 through our transload and distribution services division, York Rail Logistics (YRL). Source: Genesse & Wyoming website http://www.gwrr.com/


Lincoln Yard
What a line up! M&PA 82-GP9,Yorkrail 1602 and two Genesse & Wyoming units -1600 and 1606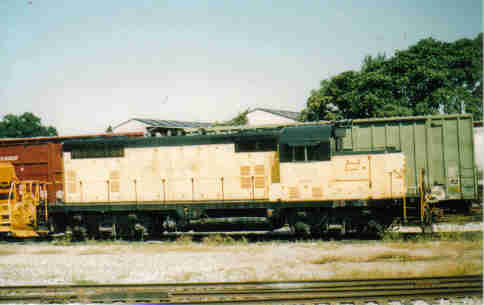 Lincoln Yard was the =WM= name for the facility because it was at the time adjacent to Rt. 30, the Lincoln Highway. Rt 30 now bypasses York in a more northernly route. Close by is the York Fair Grounds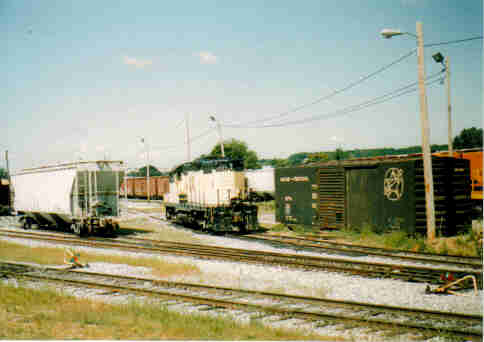 GP9 1752 and a M&PA box converted to storage use.


Click here for more Lincoln Yard
Highland Street Bridge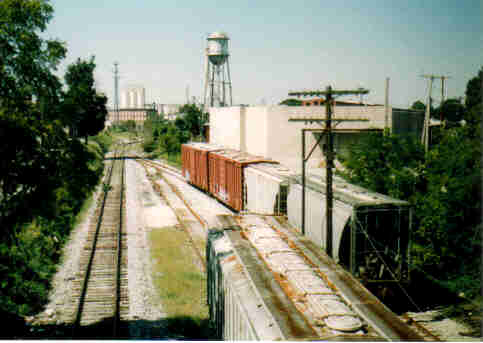 Question-did the Pennsylvania Railroad and WM share the trackage at this location? According to the track chart purchased from WMRHS, there were two tracks, adjacent to one another for the two railroads. In recent times, apparently one has been taken out of service.



...


Maryland & Pennsylavia Headquarters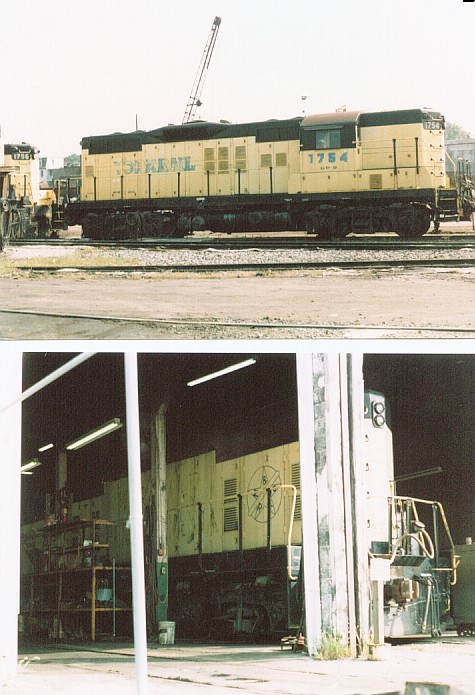 It was nice to be in York on a weekday in order to see people around various Yorkrail facilities.


The EMD switcher is one I have not see before.


Not shown in the photos is the rest of the old M&PA. I took some time to try to trace the M&PA through East York. Looks like the old railroad that is still used ends behind the Stauffer Biscuit facility west of I 83 near 6th Avenue (it has a great outlet store). I continued on the other side of 83 and got some photos of the abandoned right of way at Ore Valley and Yoe for a future page.


Junction-M&PA and Northern Central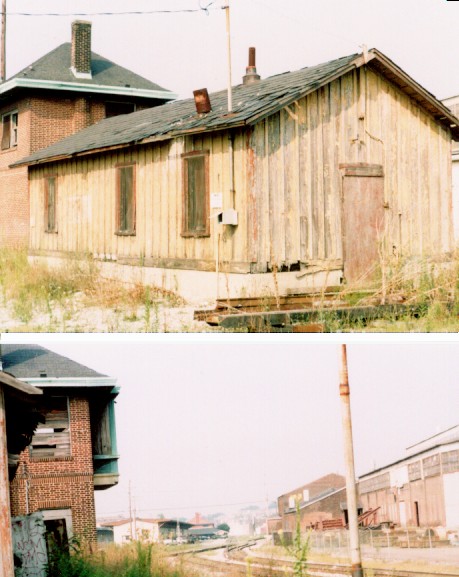 Here we have the junction of the M&PA with the Pennsylvania system (now also Yorkrail). The =WM= ends a few blocks down the street, which potentially might have been a friendlier connection. Close but no cigar. (Actually, further research reveals that M&PA did interchange with the WM in York, using some type of trackage arrangement over the PRR).

I presume the yellow building is an M&PA structure. One of the railroad's best customers was the slate roofing quarry near Delta, so the M&PA probably used their products on railroad structures. My guess is the tower belonged to the Pennsylvania.




Other York County Railroad Pages
Western Maryland Railway and Related Rail Links
Western Maryland Railway Yesterday and Today
World's Greatest Railroads!