=Western Maryland Railway=

Bachman Valley Railroad- Valley Junction to Blackrock


York County Roadtrip Part IV
December, 2002
---
By the early 1900's the Western Maryland Railway had developed into compact Class 1 railroad that went from its own tidewater port west to the best crossing of the Alleghenies (see Railroutes of the Alleghenies)and on to a midwest freight connection with a group of other independent-minded railroads. Throw in WM's three coal hauling arteries and a strategic bridge route to the Reading, add a sense of class and good management, and the result was a railroad company that operated up through the 1970's and still lives on in the hearts of many to this day.

The Western Maryland, however, did not forget its roots. The genesis of the WM was a railroad company that wanted to serve local businesses in areas that the trunk lines ignored. Keeping to this mission, the WM under John Mifflin Hood connected a group of local lines in York, Adams and Franklin Counties Pennsylvania in what would become known as the Dutch Line. One of these lines, the Hanover Branch Line Railroad Company, predated the WM with its line from the Northern Central to Hanover, chartered in 1851. Connected to this line was the Bachman Valley Railroad, from Valley Junction to Black Rock. Originally, this line began in Manchester district of Carroll County at Chestnut Hill,the location of an iron ore mine. J. Thomas Scharf reports in 1881 that the road hauled "immense" quantities of ore north to Pennsylvania iron furnaces. He lists the directors as Captain A.W. Eichelberger, President,Stephen Keifer, H.C.Shriver, Joseph Dellone, Joseph Althoff, C.L. Johnson, J.W. Gitt, Levi Dubbs, Perry Wine, Edwin Thomas, Sam Thomas, E.W. Henidele, and Adam Newcomer. The Baltimore & Hanover RR, the present day Maryland portion of the WM Dutch Line. originally intersected the Bachman Valley RR at Black Rock. This railroad had the same president as the Bachman Valley RR in 1881, but different directors from Baltimore, Carroll County and Hanover PA.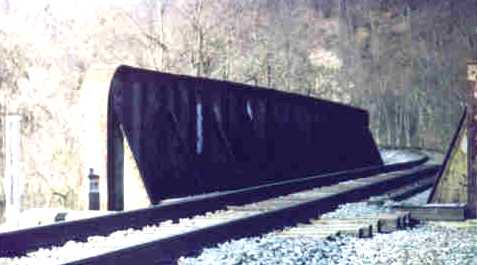 This sturdy bridge crossing Codorus Creek was a product of Steelton in 1905. The location is near Kraft Mill.

Between Kraft Mill and Sinsheim was Valley Junction with the Hanover Branch Railroad. The right of way was right behind the house that looks to be contemporary with the 1850's rail line. The Western Maryland kept the historic line open from Valley Junction to Hanover Junction on the Northern Central until 1928.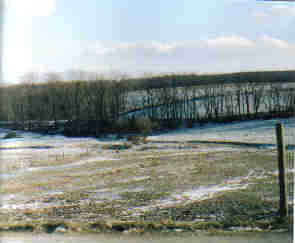 When this steep line was abandoned, the town of Jefferson was left without a railroad connection. Above is the long abandoned right of way between Jefferson and Valley Junction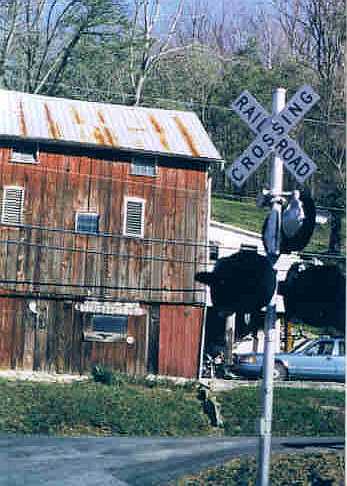 Sinsheim, as announced on the handpainted sign on the barn, is 46.5 miles from Baltimore by railroad.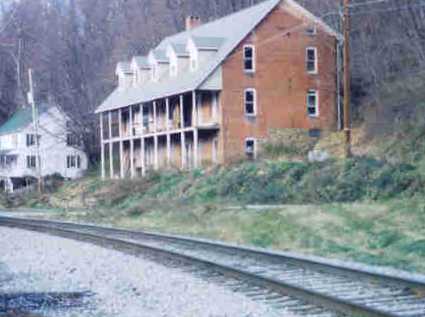 This brick structure is often shown in earlier photos of Brodbeck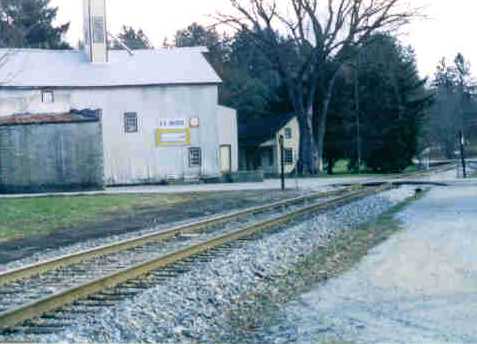 Brodbeck is home to this feed store and a very trim yellow house.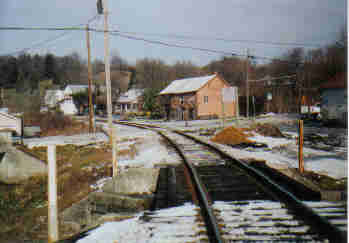 Glenville was the end of the Dutch line trip this day.


Other York County Railroad Pages
Join the Western Maryland Railway Historical Society- Use Back to Return to this Page





Yorkrailway- Use Back to Return to this Page



Glyndon to Lineboro!



Back to Spring Grove!



Western Maryland Railway and Related Rail Links


Western Maryland Railway Yesterday and Today


World's Greatest Railroads!



D796 K942



From The Bull Sheet
Station
Arrival
Departure
Additional Information
.
.
.
.
UPDATED 6/7/02
.
.
.
.
HANOVER
PA
----
0930
ORIGIN
YORK ROAD
PA
0940
0950
1 mile approx
PORTERS
PA
1005
1020
3 miles approx
LINEBORO
MD
1050
1100
10 miles approx
HAMPSTEAD
MD
1120
1130
10 miles approx
WOODENSBURG
MD
----
1145
7 miles approx
EMORY GROVE
MD
1155
1205
2 miles approx
OWINGS MILLS
MD
1240
1340
5 miles approx
LEHIGH YD
MD
----
1410
17 miles approx
ARLINGTON
MD
1430
1450
1 mile approx
WALBRIDGE
MD
1500
1510
1 mile approx
CURTIS BAY
MD
1530
1645
8 miles approx
WALBRIDGE
MD
1730
1745
8 miles approx
ARLINGTON
MD
----
1755
1 mile approx
LEHIGH YD
MD
1800
1815
1 mile approx
OWINGS MILLS
MD
1850
1900
17 miles approx
EMORY GROVE
MD
1915
1925
5 miles approx
PORTERS
PA
----
2030
29 miles approx
BITTINGER
PA
----
2050
8 miles approx
BERLIN JCT
PA
----
2120
2 miles approx
NEW OXFORD
PA
2135
2150
3 miles approx
GULDENS
PA
----
2210
5 miles approx
GETTYSBURG
PA
----
2230
5 miles approx
ORRTANNA
PA
----
----
7 miles approx
GLADHILL
PA
----
----
11 miles approx
HANOVER
PA
2359
----
36 miles approx
Comments: Hanover Local
Assignment subject to change
Hanover Local
Local freight
D796
Baltimore Division
Times updated 6/7/02

Station
Arrival
Departure
Additional Information
.
.
.
.
K942
.
.
.
.
HANOVER
PA
----
2300
TIMES ARE EXAMPLES
BITTINGER
PA
2330
2345
FULTON YD
MD
0245
0315
WESTPORT
MD
0345
0400
ANNAPOLIS JCT
MD
0500
0545
HANOVER
PA
0700
----
Comments: Loaded Rock Runner
Assignment subject to change
Times are examples
Loaded Rock Runner