=Western Maryland Railway=

Baltimore & Hanover Railroad- Glyndon to Lineboro, MD


January 19, 2003
---
By the early 1900's the Western Maryland Railway had developed into compact Class 1 railroad that went from its own tidewater port west to the best crossing of the Alleghenies (see Railroutes of the Alleghenies)and on to a midwest freight connection with a group of other independent-minded railroads. Throw in WM's three coal hauling arteries and a strategic bridge route to the Reading, add a sense of class and good management, and the result was a railroad company that operated up through the 1970's and still lives on in the hearts of many to this day.

The Western Maryland, however, did not forget its roots. The genesis of the WM was a railroad company that wanted to serve local businesses in areas that the trunk lines ignored. Keeping to this mission, the WM under John Mifflin Hood connected a group of local lines in York County Pennsylvania with the Western Maryland Railway at Emory Grove Maryland in what would become known as the Dutch Line. The Baltimore & Hanover RR, the present day Maryland portion of the WM Dutch Line, had the same president as the Bachman Valley RR in 1881, but different directors from Baltimore, Carroll County and Hanover PA.

Here is a post on the WM List March 13, 2003 to make this point.

The way Average Speed was calculated by the ICC was by dividing Freight Train Miles by Freight Train Hours. In 1947, the average speed on a Class I RR was 16.0 MPH.

The roads with the highest averages were the RF&P (24.3 MPH), CNO&TP (21.5 MPH) and T&NO (20.6 MPH) - all three with relatively little local traffic. The three slowest were the EJ&E (6.9 MPH), LIRR (8.1 MPH) and WM (10.6 MPH) - three with a lot of local traffic.

Roads having higher speeds than the national average of 16 MPH included: - UP (20 MPH), WAB (19.7 MPH), AT&SF (19.6 MPH), SSW (19.4 MPH), NKP (19.2 MPH), D&H (17.8 MPH), NP (17.1 MPH), SOU (17.1 MPH) DM&IR (17.0 MPH) & ERIE (16.4 MPH).

Roads having lower average speeds than the national average included: - B&O (12.6 MPH), RDG (12.8 MPH), PRR (13.5 MPH), NH (14.0 MPH), C&NW (14.7 MPH), C&O (15.3 MPH), NYC (15.4 MPH), SP (15.4 MPH), GN (15.8 MPH) and N&W (16.0 MPH).

Tim Gilbert

How does this square with WM's claim as the Fast Freight Line? My way of thinking, they were both! In an inteview in Working on the Western Maryland, a WM sales rep states he could get freight from the midwest to Baltimore THREE days quicker than the PRR by using the Alphabet Route system. At the same time, the Dutch Line freight and the Thomas Subdivision coal business featured customized and very local service, driving down the average speed stats above, but greatly benefitting the local businesses and producers in those areas!


Glyndon Maryland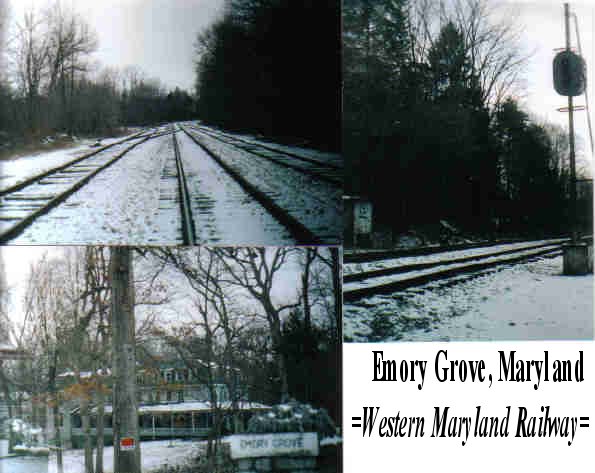 Emory Grove


Woodensburg. Photo by Don Huber April 1, 2003. This former WM station is presently used for other purposes.


This village is sleepy but it is certainly not boring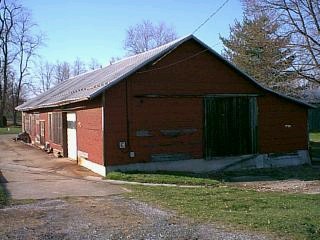 Don notes that Fowblesburg is 2 miles north of Woodensburg . He took this photo the same spring 2003 day.


The post office is Upperco, WMs timetable calls this location Arcadia. The wooden bridge, No. 259, is classic Western Maryland timber construction. The bridge numbering means that the structure is almost 26 miles from Baltimore. By the way, when these photos were scanned, a new scanner was used and one result is this scan is backwards!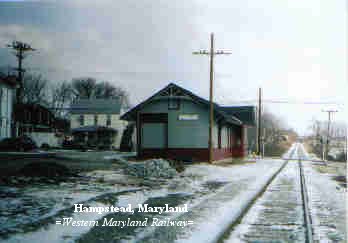 Hampstead is home to a huge Sweetheart Cup facility, but is there a rail connection? According to Don Huber, who replied to this page by email, there is not a connection to Sweetheart or the Black & Decker plant. When the Baltimore & Hanover first came to this village of 300 in 1879, property values doubled. Don notes that the station is now owned by the town and is being renovated by volunteers. Hampstead, near mile 29, is the top of a ~1% grade that starts at mile 24, with one stretch at 1.27%. The B&H, except for the upper section along Gunpowder Falls, did not follow a natural stream route, rather it ran more or less straight across country from the mainline near Glyndon to existing railroads in York County Pennsylvania, as President Hood took over PRR business that previously fed into the Northern Central at Hanover Junction.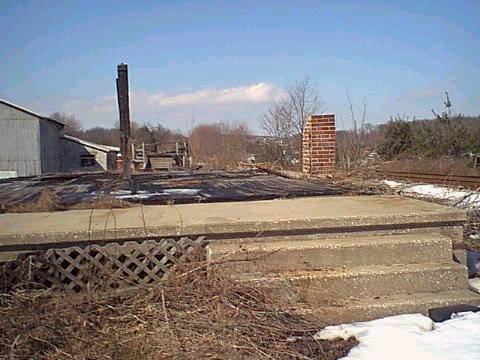 Greenmount was the location of a WM freight station and a 1200 foot siding. Don Huber of Manchester Maryland took this photo on March 9, 2003, several years after the structure was destroyed by fire. Greenmount was at milepost 31 .


Maple Grove is the location of a CSXT maintenance of way facility. There are several stacks of ties in the yard along with bumpers. A Baltimore & Annapolis caboose is on display here. Don Huber took this shot on Sunday March 16, 2003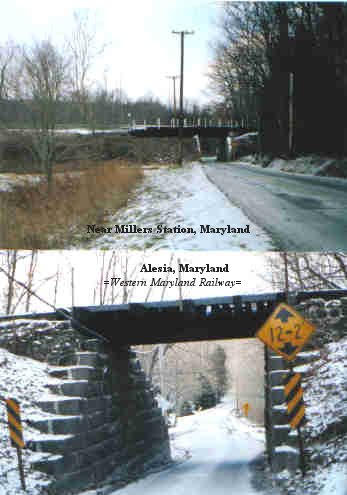 Underpasses in rural Carrol County. The one at Alesia looks lightweight, bridge No. 355 is a 19 foot I beam construction.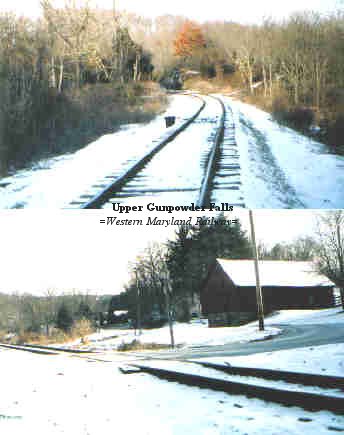 The Baltimore and Hanover follows the Gunpowder Falls stream from the divide between the Codorus near Hokes downstream to between Lineboro and Alesia.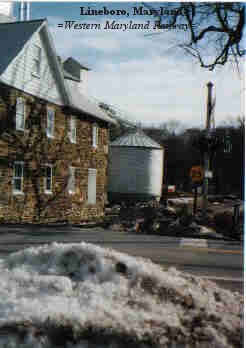 Lineboro gets its name from its location astraddle of the Mason Dixon Line. Denny Wertz has relatives in this area who own a farm equipment business.


Other York County Railroad Pages
More Baltimore & Hanover by Don Huber!
Back to Spring Grove!
Western Maryland Railway and Related Rail Links
Western Maryland Railway Yesterday and Today
World's Greatest Railroads!

D796 K942

From The Bull Sheet
Station
Arrival
Departure
Additional Information
.
.
.
.
UPDATED 6/7/02
.
.
.
.
HANOVER
PA
----
0930
ORIGIN
YORK ROAD
PA
0940
0950
1 mile approx
PORTERS
PA
1005
1020
3 miles approx
LINEBORO
MD
1050
1100
10 miles approx
HAMPSTEAD
MD
1120
1130
10 miles approx
WOODENSBURG
MD
----
1145
7 miles approx
EMORY GROVE
MD
1155
1205
2 miles approx
OWINGS MILLS
MD
1240
1340
5 miles approx
LEHIGH YD
MD
----
1410
17 miles approx
ARLINGTON
MD
1430
1450
1 mile approx
WALBRIDGE
MD
1500
1510
1 mile approx
CURTIS BAY
MD
1530
1645
8 miles approx
WALBRIDGE
MD
1730
1745
8 miles approx
ARLINGTON
MD
----
1755
1 mile approx
LEHIGH YD
MD
1800
1815
1 mile approx
OWINGS MILLS
MD
1850
1900
17 miles approx
EMORY GROVE
MD
1915
1925
5 miles approx
PORTERS
PA
----
2030
29 miles approx
BITTINGER
PA
----
2050
8 miles approx
BERLIN JCT
PA
----
2120
2 miles approx
NEW OXFORD
PA
2135
2150
3 miles approx
GULDENS
PA
----
2210
5 miles approx
GETTYSBURG
PA
----
2230
5 miles approx
ORRTANNA
PA
----
----
7 miles approx
GLADHILL
PA
----
----
11 miles approx
HANOVER
PA
2359
----
36 miles approx
Comments: Hanover Local
Assignment subject to change
Hanover Local
Local freight
D796
Baltimore Division
Times updated 6/7/02

Station
Arrival
Departure
Additional Information
.
.
.
.
K942
.
.
.
.
HANOVER
PA
----
2300
TIMES ARE EXAMPLES
BITTINGER
PA
2330
2345
FULTON YD
MD
0245
0315
WESTPORT
MD
0345
0400
ANNAPOLIS JCT
MD
0500
0545
HANOVER
PA
0700
----
Comments: Loaded Rock Runner
Assignment subject to change
Times are examples
Loaded Rock Runner

Join the Western Maryland Railway Historical Society- Use Back to Return to this Page





Yorkrailway- Use Back to Return to this Page



More Baltimore & Hanover by Don Huber!

Back to Spring Grove!



Western Maryland Railway and Related Rail Links


Western Maryland Railway Yesterday and Today


World's Greatest Railroads!