Photo credit-Edward Smith Collection. From Lehigh Valley Railroad book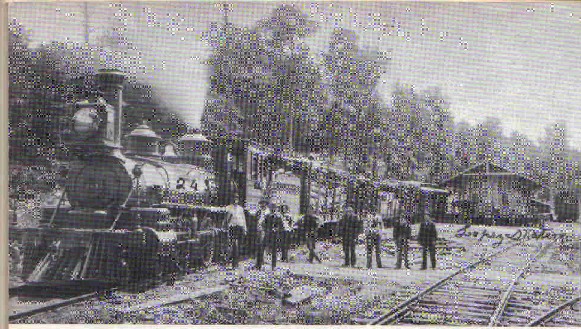 Photo credit-David R.Smith Collection, same book. The Lehigh Valley and its subs had a variety of locomotive types. This one is pulling a train of bark and a passenger car at Lopez. It is interesting that a town and creek in Sullivan County is named Lopez; Sullivan County seemed to be populated mostly with Connecticut Yankees and other anglos in its early history. Also note that one of Jennings brothers was named Cortez. A website explaining Lopez's name follows, use "back" to return here. Lopez History

Here is further information from C.M. Kelley "I happen to be a historian from Sullivan Co., PA. My great x5 Grandfather was one of the founding settlers of Jameson City, and co-owner of the Sullivan and Bloom RR. While researching the decline in Population at Ricketts and Jameson City, PA (10-12 Miles East of Lopez) I came across a story that also shed light on why the Jennings Bros. moved on. The Petticoat Fire it was named by the forest service. The tower operator at ricketts notified the local fire warden that there was a forest fire mid-line to Lopez and Colley. It was confirmed my the tower at Forkston. There was a forest fire in the Dutch Mtn. Wilderness.

All of the men, railroad workers, ccc workers, even miners assisted the county forest fire crew in the battle. It's estimated at least nine thousand, but possible as much as thirteen thousand acres were burned over. Back in Lopez, it was becoming evident that the lumber tracts between Lopez, Ricketts, and Noxen were being destroyed by the day; and the fire was closing in on Lopez. There was no fire department then; just Dushore had an organized fire company. Brush fires were growing dangerously close to Lopez, so they had to choice but to battle the fire with what was left, women and children; and the elderly. It was reported by county records that the women took off their petticoats, soaked them with water and beat the flames out. This was all that kept Lopez from certain disaster, until a rain storm that evening.

Of course it doesn't matter now. Lopez went down hill after the Jennings Bros. pack up and left. The town is mostly gone now. It was a booming place of business until April of 1982. There was a fire in the VFW building, efforts to fight the fire with thier 1923 Reo fire truck failed, and the fire spread to nine other buildings. The whole town was destroyed in two hours. Then in 1997 the church burned down, and the old logging tracts have been subject to so many forest fires during hunting season, you can't really find anything in the last 20 years.

All that's left of the Jennings Bros. Town of "Tar Bridge" is foundations, interesting to look at, yes, but you only get the full view if you bring along old photos to compare before and after..."

Sullivan County, PA Historian C.M. Kelley

In answer to followup questions, Historian Kelley continues "The petticoat fire was in the Summer of 1909. There is no sign of the Jennings Bros operation today. The left tearing down their store, mansion, and even the village of Thorndale went with them. This ended the logging era in Sullivan County, the decreased rail traffic lead to the SL&S being shut down from Noxen to Bernice. This lead to a decrease in coal being transported by rail. So in 1955 the line was abandoned as far as Dushore, and the company stopped running trains in 1968, the line was destroyed in 1972 by Hurricane Agnes.

At Lopez the Jennings Bros. owned most of the town, two mills, a clothespin factory, and 15 miles of narrow gauge railroad. They began to develop the region, locally, in 1888. They logged all over portions of Sullivan and Wyoming Counties on Dutch and Forkston Mountains. They were also the first to bring electricity to the area. The Jennings Bros built a Hotel, store, and most of the town's dwellings. They are probably responsible for it's turn-of-the-century boom in industry.

The Jennings Bros....

Worth Jennings and Cortez Jennings were the owners of the operations at Lopez. The pioneer of the Family was Paul Jennings who was Born in England and came to America in 1816. His trade was lumbering. The family finally settled at, no less, Jenningsville which is North of Mehoopany in Wyoming County. At this place they operated a farm, sawmill, store, and gristmill. Cortex, the oldest son was Born at Jenningsville in 1855. He spent many years in the military. In 1880 he married F.N. Mott of Tunkhannock who died in 1883, and he remarried M.L. Bowman in 1885.

The Jennings Bros (Worth and Cortez) came to Sullivan County in 1881, and purchase a large tract of standing timber from James McFarlane. In 1887, they moved their mill from Wyoming Co. to Lopez. They owned in the area of 4,000 acres. At Lopez they operated two mills for hardwood and hemlock, which is native to Sullivan County.

In 1899 they purchased a 2,160 tract of standing timber in Maryland and W. Virginia. On 20, Oct. 1906 Worth Jennings Died in Jenningston, W. Virginia due cause of suicide. On July 1, 1909, the Jennings Bros. sold operations in West Virginia and Maryland to the Laurel River Lumber Company for $1,400,000.00. The operation closed in 1923, and all was gone due to low population and floods by the late 1980's. Cortez Moved to Bevansville, Md where he opened a saw mill, and built a small town. I believe he may have also resided in Salisbury, Md. Not sure when he passed away. Hope this helps! -Chris Kelley

Chris- thanks again. By the way, Bevansville is very close to Jennings Maryland. Probably Cortez would have also lived in Salisbury PA, which is just up their railroad from Jennings Maryland. The railroad had their shops in a machine shop in West Salisburg PA. There were several recent articles about the shops in the Glade Star, the publication of the Garrett Co. (MD) Historical Society

I asked John Irwin, Jr. what he knew about the Jennings brothers, his response: "I don't know much about the Jennings Brothers mill at all except that it supplied traffic to the Lehigh Valley. I do know a bit about the Williamsport and North Branch Railroad though that came up from the south...Halls PA...into Satterfield and Bernice, where it connected to the Lehigh Valley. The W&NB ran right through back country that you wouldn't think would ever have a railroad, but it did from the 1880's till 1938. It ran right through the town where I live. The Williamsport & North Branch was a completely independent line, but worked more with the Reading at its southern connection at Halls than it did with the Lehigh Valley at its northern connections. It crossed from the Muncy Creek watershed as it climbed the mountain out of Nordmont to Laporte...then as it went down the mountain from there it passed into the Loyalsock area. Bernice is just up from Lopez. The Lehigh Valley operated the State Line and Sullivan branch until 1972 when Hurricane Agnes washed out several places in the track between Dushore and Towanda. If you ever get up into this area I'll have to take you over towards Wilkes Barre - Kingston - and Luzerne and follow the Lehigh Valley up over Red Rock Mountain to Dushore and Towanda...then you'll get a big eye opener about all my area and the mountains....as well as all the grades that were on the line.......it was some wicked territory at times. Thats why all through freight went by way of the LV main from Coxton Yard (Pittston) through Tunkhanock, along the North Branch of the Susquehanna River, through Towanda (where the State Line and Sullivan/Susquehanna & New York Railroad joined the LV main) on up to Sayre. Look on the USGS arial photos and find Lopez, then follow the railroad grades either way from there...there were also a few branch lines in that area too."
Maryland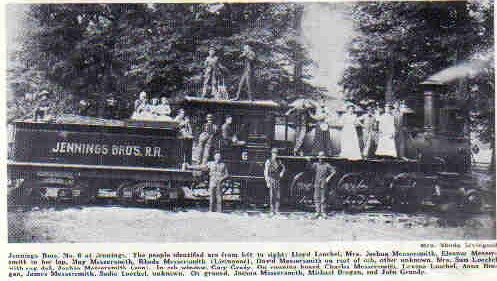 Photo credit-Rhoda Messersmith Livingood. From Tall Pines and Winding Rivers book. Probably most of these people came from Sullivan County to Garrett County. Mr. Kline reports that the engineer, Joshua Messersmith accompanied the Lehigh loco from Lopez. Mr. Messersmith and his sons worked various logging railroads in PA, MD & WV. Besides the Messersmith family (Rhoda is sitting to right of her mother on the tender), others in the photo were the Locheal's, Grandy's and various boyfriends. Rhoda could not remember the name of the fellow standing on the cab pointing the gun at the photographer.

Christina Thurber writes in June 2009 " Joshua was my great grandfather. Rhoda Livingood, the source of the photography, was Joshua's daughter and my great aunt. Joshua's son, James Messersmith, was my grandfather. James began railroad work with his father at age 11. He retired in 1954 as the General Yardmaster of the Western Maryland Railroad yard in Hagerstown, Maryland."

Although the early railroad people came from Sullivan County, Mr. Kline reports that most of the woods crews and sawmill help were locals or came from other logging operations in the area. This operation ran for 18 years without a log loader, giving a sense to the toughness of the men around Jennings.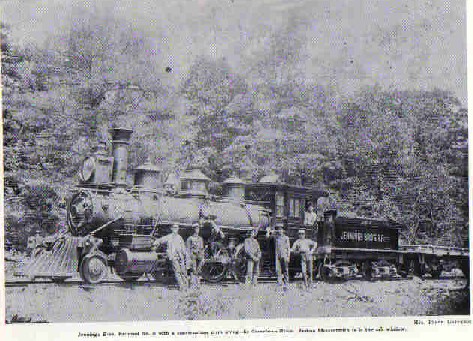 Photo credit-Rhoda Messersmith Livingood. From Tall Pines and Winding Rivers book. Note that the Jennings Brother RR in Maryland was built standard guage which required the Jennings to invest in this locomotive and standard guage log cars, leaving behind a narrow guage Climax locomotive in Lopez. The investment to do so indicates that perhaps the B&O was involved somehow. Benjamin Kline could not identify the pedigree of this locomotive and I could not find a similar locomotive in the Lehigh Valley RR book. Kline refers to this locomotive as a 4-6-0, although I can only see a single leading truck. Help please!



*Archer, Robert F., Lehigh Valley Railroad-The Route of the Black Diamond, 1978,Howell-North Books, Berkeley CA

**Kline Jr, Benjamin F.G., Tall Pines and Winding Rivers, 1976, Self published, Lancaster PA
Some of Mr. Kline's books are back in print at the PA RR Museum in Strasburg, but not this one. Does anyone have Kline's book that includes Sullivan County PA? Help or critism-including using the photos- requested. Email d_cathell@yahoo.com

**************************
From Oakland Republican, May 1901-refering to an article in the Salisbury (PA) Star
Mr. Charles Brown of Grantsville, Md. was a pleasant caller at the Star office, Monday morning. He feels a great interest in the building of the railroad extension up the Casselman valley into Garrett County, and he thinks now is the time for the people of the county to get awake and do something for themselves. In this Mr. Brown is right, and it would be a very good plan for our southern neighbors to organize a home company for the purpose of prospecting and shafting for minerals. If it can be shown that there is good merchantable coal in paying quantities along the new railway extension or in close proximity to it, then indeed will great prosperity be the inheritance of Garrett county, and a new and brighter epoch will be her lot. Wealth and fame will come her way, and all her citizens will prosper accordingly. But God helps those who help themselves, and if the people of Garrett county do not take advantage of their opportunity, fortune may knock at their doors when they are asleep, pass on and never return. - Salisbury Star.
********************
The first engine for the Jennings Bros.' extension, running from the foot of Niverton hill to near Bittinger, arrived at Meyersdale and is now in service as a gravel train engine on a section of that road. Two more new engines will arrive as soon as the road is completed. The new railroad is nearing completion and when finished will be seventeen miles long, standard gauge, and will penetrate into the richest portion of Garrett county. Jennings Bros. own the best timbered portion of Garrett county and after the timber is cut out they will have a number of coal veins in operation to keep the railroad busy. Oakland Republican06/13/1901-(Vol.25, No.14)
********************
The Jennings Bros. Railroad, from Niverton, Pa., into Garrett county, is nearly finished. The mill for transporting lumber, from which the road is being built, is partly up at a point near Bevansville. It will be very large.Oakland Republican08/22/1901-(Vol.25, No.24)
********************

********************
A handsome combination express and passenger car for Jennings Bros. new railroad arrived last week. The Messrs. Jennings are thoroughly up-to-date and they will give the people along their railway as good service as possible. When the Jennings train runs to the West Salisbury depot it will be a great convenience for the people here as well as all along the line. More power to Jennings Bro. They are the right kind of people.Oakland Republicanpub. 09/19/1901-(Vol.25, No.28)
********************
The announcement in THE REPUBLICAN last week of the purchase of coal lands in the Potomac basin in Garrett county by the Elkins syndicate and the proposed plan for development brings out the fact that the first coal mined and used in Western Maryland or Pennsylvania was opened upon the old Brown farm near the Pennsylvania line, two miles south of Salisbury, in Garrett county. This mine was opened over a century ago. Several years later the Thistle Mine, two miles west of Grantsville, near the National road, was opened and has been worked continuously for nearly a century. This is a four foot vein of clean merchantable coal. Negro mountain is underlaid with this view, nearly every farmer working a drift mine. In 1866 a company was formed in Allegany county to search for coal oil. They sank a well on Shade Run, one mile west of Grantsville in the Casselman valley. Inside of 140 feet from the surface they found three large veins of coal, the lowest 12 feet thick. The entire valley is underlaid with these veins. On the North branch of the Casselman vein some years ago Mr. Bittinger faced or opened a vein of coal 7 ft from George's Creek pronounced this coal of superior quality. The railroad under construction will be ready for traffic by April 1st, 1901. This road will open the Casselman valley, one of the fairest and most fertile in the state. A vein of coal is said to have been discovered on the farm of James R. Bishop, just west of Oakland and adjoining the Bradley farm.
********************



JENNINGS 1937



Jenningston, West Virginia-By Keith Allen- Use 'Back' to return here





BACK TO CASTLEMAN RIVER RAILROAD





Rockville Bridge Rails Across the Susquehanna By Dan Cupper





Back to Cumberland Valley Railroad



Western Maryland Railway and Related Rail Links


Western Maryland Railway Yesterday and Today


World's Greatest Railroads!