Fulton County Pennsylvania


© David W. Cathell 2006
Note!-All Links Require the Use of Your Browser's 'Back' Function
---
Wells Valley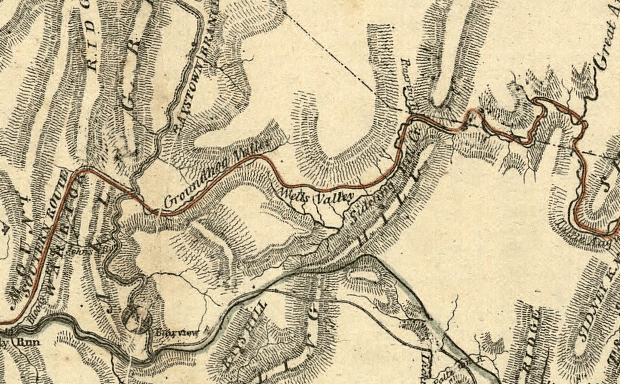 Colonel Schlatter's southern Pennsylvania route through Wells Valley, Fulton County Pennsylvania
"Map exhibiting that portion of the State of Pennsylvania traversed by the surveys for a continuous rail road from Harrisburg to Pittsburg made under the direction of Charles L. Schlatter, c.e. in the year 1839 and 1840. Drawn by Charles Cramer."
HISTORY of BEDFORD, SOMERSET and FULTON COUNTIES, PENNSYLVANIA.
With Illustrations and Biographical Sketches of some of its PIONEERS AND PROMINENT MEN.
Chicago: Waterman, Watkins & Co.,1884

CHAPTER XCVII.

WELLS.
Organization in 1849 - Change of Name in 1850 - Wells, the Hunter and Pioneer Settler - Alexander Alexander, 1772 - Flight of the Family to Escape the Indians
- Incidents and Adventures - Mills and Other Industries - Wells Tannery - Schools, Churches and Odd-Fellows - Taxables in 1850.
AUGHWICK township, Bedford county, was organized September 1, 1840. By act of the legislature, the name was changed to Wells, April 2, 1850. In the same year the township became a part of the new county of Fulton.
Wells' valley,* which includes nearly all of the township, derives its name from its first settler - a man named Wells, who came from Baltimore about 1760. He built his cabin at the head of the valley on the farm since known as "Wishart's upper place," and here he was accustomed to spend the autumn and winter months, devoting himself to hunting, but returning to his native place every spring. How many seasons he hunted here is not known; but in the year 1778 he was residing near the Allegheny mountains, where he had quite extensive improvements.
Alexander Alexander, a Scotch-Irishman, familiarly known as "Double Alick," is believed to have been the first permanent settler in the valley. He emigrated to America in 1763 and settled near Greencastle, Pennsylvania, whence he removed to Wells' valley in 1772. He experienced the usual hardships of pioneers. His nearest neighbor, Jacob McClain, lived four miles distant, on Wooden Bridge creek, a short distance above Woodcock's mill. Alexander was obliged to go to McClain's to borrow coals to kindle his fire when he was unlucky enough to let it go out. He went to the vicinity of Fort Lyttleton for milling, to Fort Loudon for salt and groceries, and to Carlisle for drygoods. Alexander Alexander was a leader among the Presbyterians and was an elder of the "Great Cove congregation," the first church organized in the county. In the fall of 1777, with his wife and four children, he was driven from his home by the Indians, and sought shelter and safety among the inhabitants of the Great Cove, but the following spring he returned to his plantation.
In the early autumn, 1778, a party of hunters, twenty or thirty in number, came from the vicinity of Baltimore and made Alexander's house their headquarters while enjoying the sport which the woods afforded. But a party of Indians, coming over from Ray's cove, caused their hunting operations to cease suddenly, and to escape their wily foe they hastened homeward. Alexander and his family again fled and went to the Conococheague settlement, where they remained until the close of the revolution. The
_____ * The greater portion of this chapter is taken from "Reminiscences of Wells Valley," a series of historical sketches written by W. Scott Alexander, and published in the Fulton Democrat in 1870.
[670]
family then returned to their forest home, and Mr. Alexander erected a new house (now a part of the dwelling owned by his great-grandson, Harvey Wishart). He died November 8, 1815.
About the year 1785 emigration began to fill the valley with settlers. The families of William Hardin, William Wright and Giles Stevens became permanent settlers. The quality of the land became known and this led to rapid settlement. By the close of the eighteenth century no less than twenty families had made their homes in Wells' valley. Among the pioneer families were those of
Bancroft Woodcock, John Osborne, John Moore, William Ports, Hethcote Picket, Josephus Murray, Samuel Danner, John Giles, William Piniard, --- Frazier, Joseph Edwards, John Crocker and others. Drs. Wishart and Moulton, the first practicing physicians in the valley, were great acquisitions to the settlement, and their services were duly appreciated.
A man named Dillan erected a tubmill at New Grenada, afterward known as "Tubmill Gap," at an early date. In 1797 Bancroft Davis built a larger and more serviceable mill.
Martin Giles was the only man drafted from the valley for the war of 1812. His health was greatly injured in the service. About this time Jared Osborne built a powdermill, which was afterward operated by Alexander Ready. Ready also built one later.
Lewis, the noted robber,* frequented the valley between 1820 and 1825, having his haunts along Sideling Hill. He was once captured by the citizens of the valley and brought before 'Squire Alexander. He was sent to jail, but escaped from his guard before he reached Bedford.
In 1865 the oil excitement pervaded New Grenada and vicinity. Operations were begun and large expenses incurred, all of which resulted in failure.
The people of Wells' valley have always evinced a commendable interest in educational matters, and today the schools of the township rank among the best in the county. A building for a graded school was erected in district No. 1, in 1858, at a cost of seven hundred and fifty dollars. This building is known as the Fulton Institute. The district not being large enough to support two schools, the two grades became one after three or four years. Select schools and literary societies have been held in the township at various times with good results.
Wells' tannery was erected by Lyon and Patterson in 1855. The main building, 43 1/2 x 118 feet, was supplied with the necessary fixtures of a steam tannery, and for several years a prosperous business was conducted. A store was kept by the proprietors of the tannery. In 1869 the store and its contents were destroyed by fire, and in the spring of 1870 the tannery also burned. It was rebuilt by Lyon & McClure the same year. In 1872 J. G. Lyon and J. M. McClure sold out to Chatfield, Underwood & Co., of New York city. The former owners had tanned only sole leather, and had a capacity for seven thousand hides annually. The new firm began to make leather for belting. In 1879 C. H. Chatfield became the sole owner and made great improvements. At present the tannery is worked at its capacity, twelve thousand hides annually. About twenty men are employed. Three thousand cords of bark are used each year. John W. Blackhart became superintendent in 1872, and still holds the position.

The following is a copy of the list of resident propertyholders of Aughwick (now Wells) township for the year 1850, taken from the assessment rolls on file in Bedford county:
William Alexander's heirs
John B. Alexander, Esq.
S. P. Anderson
John Bivens, blacksmith
David Black
Charles Barton, carpenter
Benjamin Bradley
John E. Cunningham, blacksmith
John W. Durant
James Dickson
Joshua Edwards
William Edwards, carpenter
John Foot, shoemaker
William Fisher, mason
John Gest
John Gibson, weaver
William Gray
Samuel Hockenberry, miller
John S. Houk
Thomas P. Horton, blacksmith
Henry Keath
Jacob Kegarice
Peter Kegarice
David Lane
Dr. James Moore
John Moore
Elmer Menkley
Henry Mulch
John Miller
David Osburn
Philip Oakman
John Piper
Joseph Richardson, carpenter
David C. Ross, tanner
John K. Ready
Alexander Ready's heirs
James Ramsey, wagonmaker
George Stewart, merchant
David Stevens
Matthew Stunkard
James Stunkard's heirs
George W. B. Sipes, postmaster
Baltzer Schwartz
John Wishart
John White
George White
Zechael White, shoemaker
John Woodcock, tanner
Samuel Willett
Allen Willett
George Whitehill
Thomas Willett
Joseph Woodcock
N. W. Horton, son of Henry and Elizabeth Horton, was born in Huntingdon county, Pennsylvania, in 1815. In 1855 Henry Horton came
_____ [Autobiography, Daring Deeds and Adventures of Lewis the Robber - ftp://ftp.rootsweb.com/pub/usgenweb/pa/centre/bios/lewis01.txt]
[671]
to Fulton county and purchased the Giles farm, where he resided until his decease in 1865, aged seventy-six years. N. W. Horton came to Fulton county in 1860 and purchased the Alexander Ready farm, where he still resides. He is the father of five children, now living. His eldest son, Samuel M., is a surgeon in the United States army and is now stationed at Fort Douglas, near Salt Lake City, Utah Territory. The other children are Mariah (Mrs. Dr. H. S. Wishart), Catharine (Mrs. W. H. Marklay, Laura C. (Mrs. T. S. Dickson), Edwin A., married to Miss Sioux Glover. Mr. N. W. Horton is an elder in the Presbyterian church. S. F. Geisinger, son of Adam and Eve, was born in York county, Pennsylvania, in 1823. His father died in 1833, aged fifty-three, and in 1842 he and his mother settled in Huntingdon county, where she died in 1859 at the age of seventy-six years. In 1869 S. F. Geisinger moved to Fulton, having purchased the farm in 1858, near new Grenada, where he now resides. He first purchased one hundred and twenty acres and has since added four hundred. He has a circular- saw mill and a good store property. In 1843 was married to Mary, daughter of James and Margaret McNeil. They are the parents of nine children. He has followed mercantile business five years and milling six years. The family are of German descent.
John W., son of John and Phoebe Blackheart, was born in Bedford county, Pennsylvania, in 1847. John died in 1850, and Phoebe in 1876, aged sixty years. John W. enlisted when seventeen years of age in the 2d Penn. Cav. He participated in the battles of Bunker Hill, Darksville, Maryland Heights, Winchester, and some nine or ten others of greater or lesser magnitude. He received an honorable discharge at the mustering out of the troops. For three years he engaged in the tanning business in Maryland, and then came to Fulton county and engaged with the Wells tannery. For the past eight years has filled the position of superintendent of the tannery for C. H. Chatfield, of New York. Only two of the Blackheart family now live in this county - John W. and a sister, Eliza, the widow of J. G. Foster.
W. H. Baumgardner, son of William and Mary A., was born in Havice valley, Mifflin county, Pennsylvania, in 1854. Came to Fulton county in 1880, and engaged in the mercantile business, he having purchased the old stand of C. H. Chatfield, where he runs a general store. He is building a new store, 45 x 23, with dwelling attached. In 1879 was married to Mollie M. Johnson, of Huntingdon county, Pennsylvania. She is a daughter of Irvin and Christina Johnson. He is an enterprising business man. A. S. Edwards, son of Joshua and Elizabeth Edwards, was born where he now resides, in 1849. His great-grandfather John came from England in 1770, and soon after settled in Bedford county, Pennsylvania. Joseph, one of the children of John, died, leaving a family of six children. One of these children, Joshua, died in 1871, aged sixty-seven years. He left thirteen children, the offspring of two marriages. Three of his sons were in the United States army, viz., G. W., Jehu and Arnon G. the latter was in the 26th Penn. Regt., and died from the result of a wound received in the battle of Antietam. John was wounded in front of Petersburg. Several of the boys were graduates of normal schools and followed teaching. A. S. Edwards is one of the fourth generation who resided on the farm settled by his ancestors.
John R. Foster, son of Septemus and Elizabeth Foster, was born in Broad Top in 1849. John R. came to Fulton county with his parents about 1860; they purchased a tract of land where he still resides; John R. lives on a part of his father's farm. He was married in 1870, to Mary F. Edwards, daughter of George W. and Alice Edwards. George W. Edwards now resides in California and follows millwrighting.
Jehu G. D. Cunningham, son of Joseph and Sarah, was born in Juniata county, Pennsylvania, in 1828. His uncle, John E. Cunningham, came to New Grenada, Fulton county, about 1845, where he followed blacksmithing some twelve years, during which time John G. learned blacksmithing with him, and has since carried on blacksmithing in this place, with the exception of three years. After a residence of two years in Fulton county, moved to Texas, where his mother died in 1865, and his father in 1866. Jehu G.'s brother, Joseph, was in the army three years and was honorably discharged. Jehu's son, W. S. F., graduated at Shippensburg college and is now teaching in Kansas.
John S. Houck, was born in Huntingdon county, Pennsylvania, October, 1811. He received an education in the common schools. He taught common schools and vocal music during the winter months from 1831 to 1850. In 1840
[672]
he married Miss Henrietta Yocum, born in Huntingdon, Pennsylvania, 1818. In 1845 he moved to a farm of one hundred acres, purchased in 1844, in Wells' valley, Bedford county. In 1850 he purchased one hundred and fifty acres. He died in 1857, his wife surviving him until December, 1875. Their children were W. McKenzie, J. Marshall, S. John, V. Sarah, E. Malinda, C. Rosswell, C. Milford, J. Emory. John S. died at the age of six years. In 1858 W. McKenzie apprenticed himself to the manufacture of tinware and served thirty-one months, when he and his brother, J. Marshall, enlisted in Capt. H. S. Wishart's company of Fulton riflemen. This company, not being accepted by the government, he enlisted in Co. F, 77th regt. Penn. Vols., for three years, or during the war. He served with credit, and participated in the battles of Shiloh, Murfreesboro, Chicamauga, Franklin, Nashville, to the numerous battles fought by Gen. Sherman while marching through Georgia. He was wounded in the battle of Chickamauga, Tennessee, September 19, 1863. Was honorably discharged at the expiration of term of service. He returned home to his mother, in Wells' valley, Fulton county, Pennsylvania, and engaged in the manufacture of tinware, also in the hardware and agricultural implement business. Marshall J., on his return from three-months service, enlisted in Co. F, 2d Penn. Reserves, for three years or during the war, and participated in all the battles fought on the Potomac, up to May 10, 1864, when he was wounded in the left arm so severely as to render its amputation necessary.
Odd-Fellows. - Wells' Valley Lodge, No. 607, I.O.O.F., was organized in 1867.
In 1870 the lodge erected a three-story frame building, 30 x 36 feet, in the upper story of which their meetings are held. The lodge is prosperous, with a good membership. Presbyterian. - The Presbyterian church of Wells' valley, consisting chiefly of the descendants of Alexander Alexander, was never formally organized. It has always formed a part of the McConnellsburg charge. At the beginning of Rev. N. G. White's pastorate, 1834-1864, a church-building was standing, but unfinished. Rough benches without backs served as seats. At a later period it was finished, weatherboarded and painted.
John Alexander, son of Alexander Alexander, was chosen elder of the Wells' Valley church and served with zeal until his death, in 1840. He was a noble Christian, gifted with such a remarkable memory that it is said he could repeat verbatim nearly all of the New Testament, and more than half of the Old.
The present membership in Wells' valley is forty-five. For a list of pastors see history of the McConnellsburg church.
Methodist Episcopal. - Among the settlers who came into Wells' valley about 1790 were several families of Methodists. They probably had stated worship at private houses long before a church edifice was built, and it is believed that a class was formed before 1800. In 1818 they built a meeting-house, the first in Wells' valley, a simple log structure. In 1828 it was torn down and its place supplied by a new and more commodious edifice, which was built under the leadership of Joseph Woodcock.
Joseph Edwards, Samuel Willett and Nathan Green were among the earliest members of the Methodist church, and were chief builders of the first meeting- house. The church now has fifty-five members and the Sabbath school seventy. Pine Grove Methodist Episcopal church, near Wells' tannery, was organized by Rev. George W. Bouse, in 1870. George W. White was the first class-leader. In 1881 a house of worship was erected at a cost of two thousand dollars. The church has forty-one members and the Sabbath school one hundred and eighteen scholars.
Church of God. - This church was organized at New Grenada by Rev. Jacob Lininger about 1847. David Hoover was elected elder and J. E. Cunningham, deacon. Worship was held in dwellings and schoolhouses until 1861, when a church-building was erected. No list of pastors can be given.
United Brethren. - The church of this denomination was organized in 1850, during the pastorate of Rev. R. G. Rankin. Samuel Willett was chosen class- leader, and George Lockard, Sr., steward. A house of worship was erected in 1853.
Baptist. - the Baptist congregation was organized June 24, 1861, during the ministerial labors of Rev. Joseph Correll, with a small membership. There had been occasional preaching by ministers of this denomination for several years prior to the formation of a society.
~~~ FINIS ~~~

Source-Use back to return here

Logging Railroads

<
East Broad Top Railroad Pages-use 'back' to return here
Garrett County Maryland Logging and Mining Pages-use 'back' to return here
---
Western Maryland Railway and Related Rail Links
Western Maryland Railway Yesterday and Today
World's Greatest Railroads!