=Rowlesburg & Southern RR=

Erwin West Virginia
---
Rowlesburg & Southern 4
Brought to you by the Cathell Family in West Virginia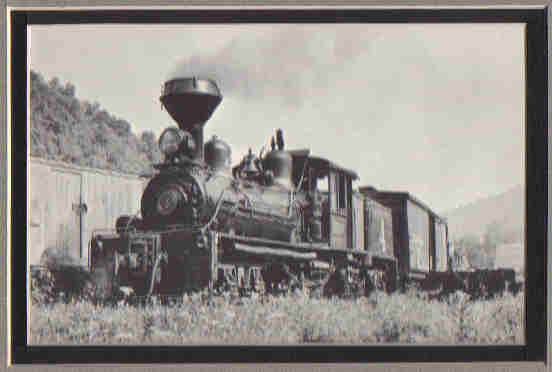 Photo of Shay 4 by H. Reid- photo was purchased already matted and did not scan particularly well

Harold A. Reid (better known by his pen name H. Reid) (1925–1992) was an American writer, photographer, and historian. Reid is best known for his lifelong love of railroading and related photography and published work. An avid fan of steam locomotives, he helped capture the last days of steam motive power on America's Class I railroads which ended with the Norfolk and Western in 1960. His work helped establish rail photography as a hobby.






The Photographic Collection of Donald R. Hensley, Jr. Photo location, Irwin WV 7/2/49

This print is available from Mr. Hensley , 277 S. Washington St, Waynesburg PA 153710, www.taplines.net.

Shop Number 746 - Built for: Cherry River Boom & Lumber Co. Built: 12-02-1902 Class: C 50-3 Trucks: 3 Cylinders: [#-Diam x Stroke] 3 - 12 x 12 Gear Ratio: 2.21 Wheel Diam: 32" Gauge: std Boiler: [Style - Diam.] W.T. - 46" Fuel Type: Coal Fuel Capacity: 5 Tons Water Capacity: 3000 Gallons Empty Weight: As built 100,500 Owners: Cherry River Boom & Lumber Co. #4, Richwood, WV (6-21-1921) Cherry River Boom & Lumber Co. #4, Gauley Mills, WV Rowlesburg & Southern Ry #4, Rowlesburg, WV Disposition: (1950) Scrapped Additional Notes: © 1998-2005 www.shaylocomotives.com
Rowlesburg & Southern 3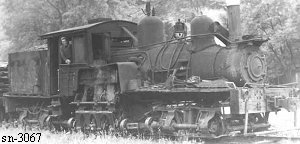 Robert S. Waller collection

A very similar print is available from Mr. Hensley , 277 S. Washington St, Waynesburg PA 153710, www.taplines.net. That print is dated 7/5/48

Shop Number 3067 - Built for: Glade Lumber Co. Built: 03-30-1920 Class: B 36-2 Trucks: 2 Cylinders: [#-Diam x Stroke] 3 - 10 x 10 Gear Ratio: 2.05 Wheel Diam: 29" Gauge: std Boiler: [Style - Diam.] E.W.T. - 39.375" Fuel Type: Coal Fuel Capacity: 1.5 Tons Water Capacity: 850 Gallons Empty Weight: As built 62,000 Owners: Glade Lumber Co. #3, Erwin, WV (6-5-1920) Keystone Manufacturing Co. #3, Erwin, WV Rowlesburg & Southern Ry #3, Rowlesburg, WV (c1941) Leased to: Morrison, Gross & Co., Erwin, WV Disposition: (1950) Scrapped Additional Notes: Purchased from Lima on a two year Lease/Purchase agreement. © 1998-2005 www.shaylocomotives.com

Lumber manufacturing at Erwin dated back to at least 1911 when it was the Woodbine Mill operated by James Erwin Stitzinger. Photos of that era show Heisler No. 2 operating on a lightly built lumber railroad in the Wolf Creek watershed. The Rowlesburg and Southern served the lumber mill at Ervin, WV and interchanged with the B&O at Rowlesburg. The population along the beautiful Cheat River was sparce, especially on the east side, so one speculates that the lumber mill was the sole source of revenue, however Early Times in the Rowlesburg Area reports that the Cheat was bridged in Macomber to serve a tannery. Again speculating, it would only be a matter of time that an inevitable flood would put an end to such a bridge.

From the date of scrapping the locomotives 3 and 4 , the railroad existed until 1950, although under several ownerships. My father says that the mill suffered a fatal accident in the late 1940's and never reopened. Lumber continued to be shipped on the railroad as it dried and found a market for several years afterwards, however.

From the map at the bottom of the page, the Rowlesburg and Southern continued south along the east bank of the Cheat River, entering Tucker County. A later topo map shows it opposite Hannahsville. At St. George, the forest would have been logged by the Kendall Lumber using the Preston Railroad, ending around 1925, so the R&S probably focused on the Little Wolf, Block and Glade Run watersheds. Note how steep the flank of Limestone Mountain is in this area. In recent years, my father relates that the mountainside was logged again with the use of helicopters. Although the Rowlesburg and Southern seems to be a somewhat obscure logging railroad, it might have had its roots in a charter obtained by the Cheat Haven and Bruceton which operated around the Morgantown WV area, but was chartered before the turn of the century to run along to the Cheat all the way to Parsons (see Roberts Sand Patch). Roberts West End seems to show the R&S in place at the Rowlesburg end at the late 1800's. Most of the above is speculation, any assistance appreciated.

The later operators of the Ervin mill was Morrison and Gross, timbermen originally from northern Pennsylvania. Morrison and Gross progressed southward as the timber depleted. They operated at Wallman Maryland,buying out A.G. Miller in 1924 according to Kline in Tall Pines and Winding Rivers. Kline writes.."now enters two Pennyslvanians, Cecil Gross and Robert Morrison. These men were lumbermen of experience from near Marionville, Forest County (PA)". Morrison and Gross' operation cut timber in the Stoney River, WV area using all three of the major geared locomotives, Shay, Climax and Heisler. Morrison and Gross also manufactured in Moribell West Virginia and according the descendents were headquartered in Elkins. The Gross side of the partnership is still in business at High Point North Carolina in the veneer business.


Erwin West Virginia 1938


The images below are found on the American Memories website of the Library of Congress. The photographer in this case was Marion Post Wolcutt, part of the Farm Security Administration collection. The photos seem to be somewhat condescending with a negative view of the mountains and mountaineers. I was not around at the time, but my reading of history says that it was tough all over in the Depression. For more of these type of photos, see my Jennings pages.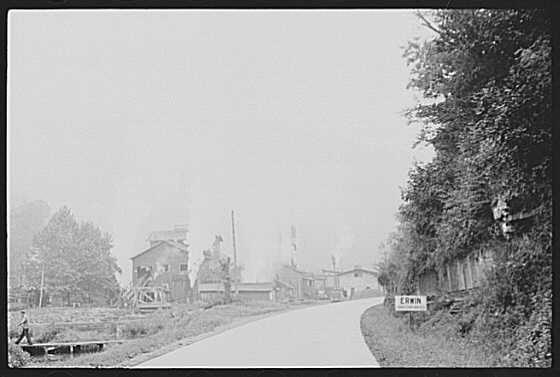 Erwin, looking west on U.S.Route 50. Erwin is located at the foot of winding grade down off of the Alleghenies into the deep Cheat River valley. Rt. 50 was the successor of the old Virginia Northwestern Turnpike. Up until the advent of the Interstates (1980's), it was a major east and west truck route. Travel from Keyser WV to Grafton WV on this route gives one a sense of the challenge of crossing the Alleghenies. Even with a major highway at its doorstep, it made economic sense to ship the finished lumber by rail in the first half of the 1900's even if it required a 5 mile railroad with attendant equipment just for that purpose.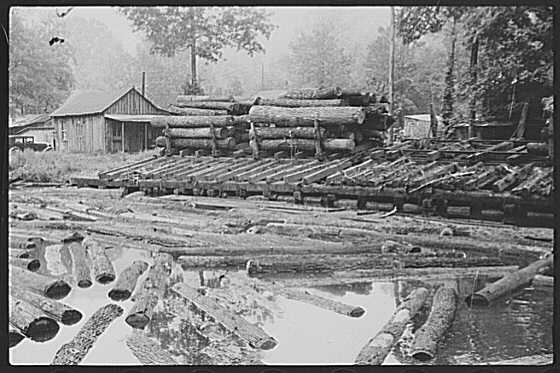 Ms. Wolcott's photos of outside the mills give an excellent example of the tilted unloading dock that facilitating the movement of the logs from railcar to the pond by gravity.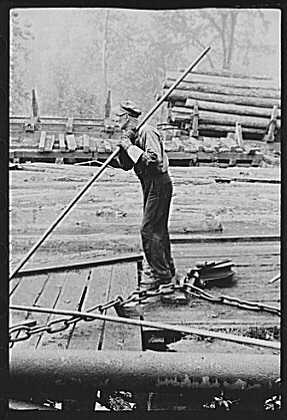 A pondman is responsible for selecting and moving logs to the jackslip and up into the mill. Mill ponds were used in the larger mills to facilitate storage and selection of logs, and to wash the mud off of the logs before they were sawed.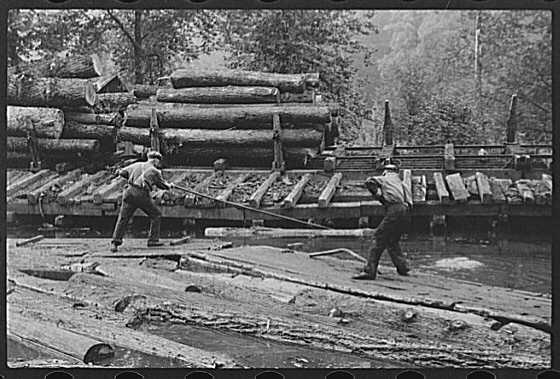 Log cars had rails to allow a log loader to move from car to car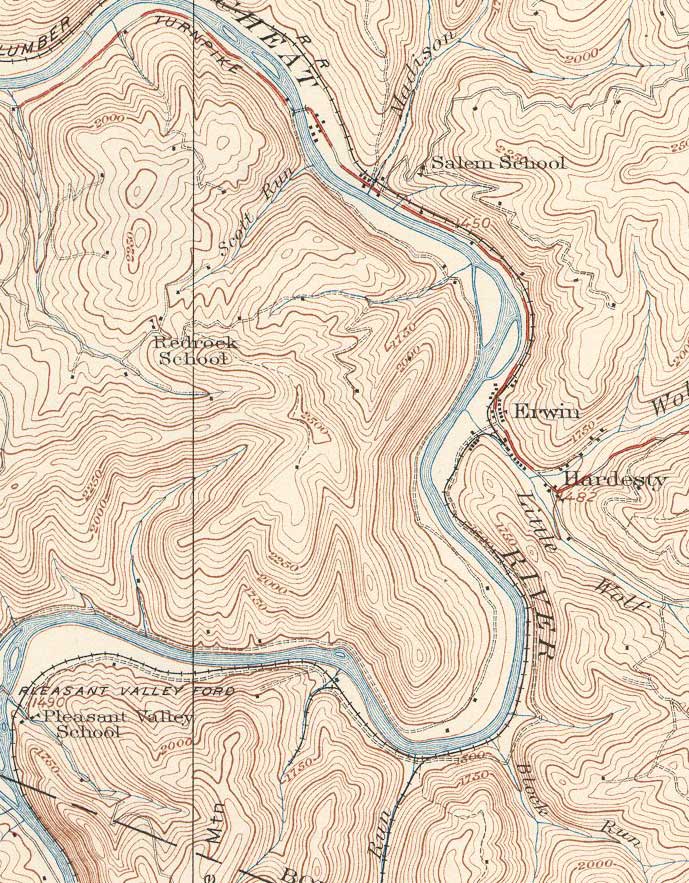 ...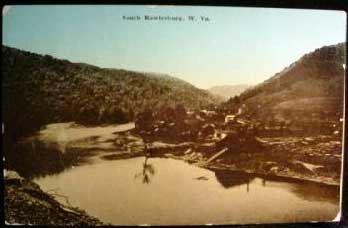 ...




..



Use this link to go back to the Cathell Family in West Virginia





Use this link to go back to the Etam and Rowlesburg WV Industry page





Cheat River near Erwin



Back to Preston Railroad page


EBT Pages
Official site of EBT

Friends of EBT
Rockville Bridge Rails Across the Susquehanna By Dan Cupper


New! Mountain State Rails-Adams Burns Co-host-please use 'back' to return here



Back to Cumberland Valley Railroad



Western Maryland Railway and Related Rail Links


Western Maryland Railway Yesterday and Today


World's Greatest Railroads!