=Rockville Bridge=
Hurricane Ivan Flood

Harrisburg, September 2004
---
...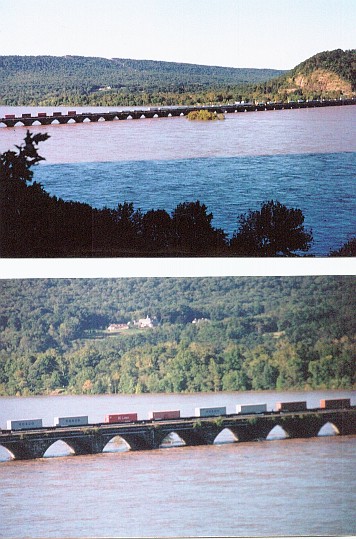 Hurricane Ivan dropped up to six inches of rain on central Pennsylvania on Friday night and Saturday morning September 17 and 18, 2004. At Harrisburg, the Susquehanna has a watershed of 24,000 square miles, so flooding was assured. These photos were taken around the time that the river crested at 24.4 feet on Sunday evening September 19,2004. Note that no decrease in train traffic resulted in this area. The river appears blue where it is in the shadow of the mammoth watergap in Blue Mountain.


These photos were taken from upstream of the Rockville Bridge at the Marysville water treatment plant. What this photo does not convey is the rapid rate that the river was moving The bottom photo shows a boat using River Road as a calm canal to view flood damage. Notice the arch of the Rockville bridge that normally is high and dry.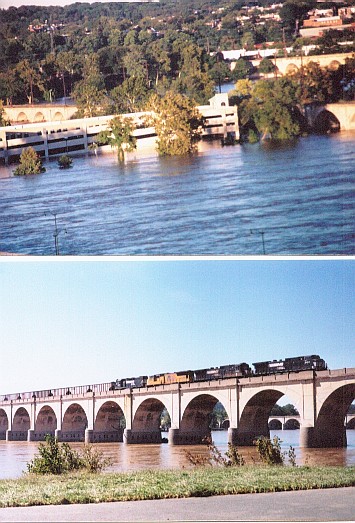 Downtown in Harrisburg, City Island is submerged up to the second level of the parking garage. In the background is the Cumberland Valley RR bridge and the Reading Railroad bridge. The bottom photo shows the Reading Bridge Tuesday the next week after traffic was again moving on the Hagerstown Secondary. The spot where this photo was taken was underwater doing the crest of the floodk, the fire department was washing the mud off of the road .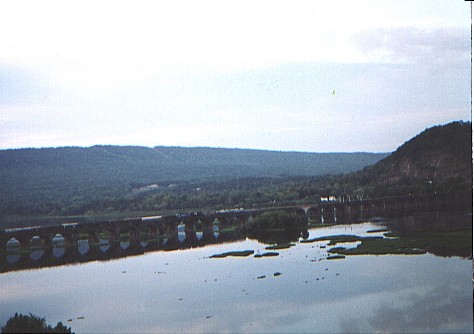 . For comparison, here is a shot of the Rockville bridge August 25, 2002 during a drought.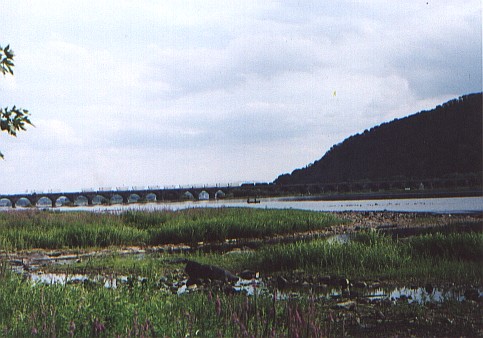 The bridge is 46 feet above the normal river level. On this late August evening, the river is about 3 feet at Harrisburg.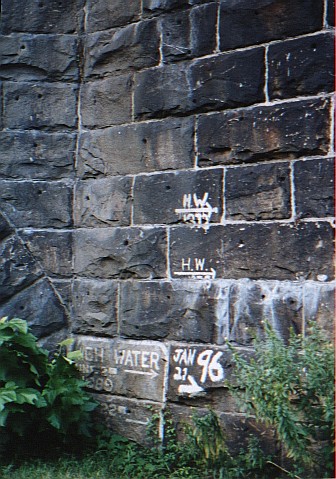 Six highwater marks are painted on the east abutment of the current Rockville Bridge before the Hurricane Ivan flood. Two of these marks were before the present bridge was built, but perhaps the predecessor bridge shared this abutment (see photo below). The top mark is the infamous Hurricane Agnes of June 1972, when the Susquehanna hit an all time high of 32.57 feet, 15 feet over flood stage. The Rockville Bridge stood, but all around the region rail lines were being wiped out, some never to be rebuilt. The Rockville Bridge withstood all floods, but the first wooden bridge was partially destroyed by a tornado.





More Rockville Bridge!



Pennsylvania Railroutes





Rockville Bridge Rails Across the Susquehanna By Dan Cupper"



Back to Cumberland Valley Railroad



Western Maryland Railway and Related Rail Links


Western Maryland Railway Yesterday and Today


World's Greatest Railroads!