=Rockville Bridge=
100th Birthday
Part 11

Harrisburg, November 2,2002
---
The present Rockville Bridge is 100 years old this year. The bridge was the Pennsylvania Railroad crossing of the Susquehanna just north of Harrisburg on an alignment to use the "middle route" from Philadelphia to Pittsburgh(see Railroutes of the Alleghenies), ...
Historic marker in downtown Marysville tells about the Rockville Bridge in the background.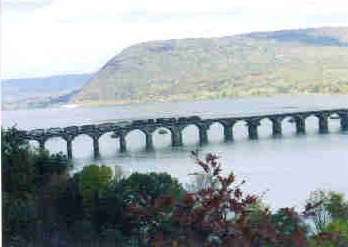 Coal train crossing on this early November Saturday originated from the old Pennsylvania system somewhere from the west.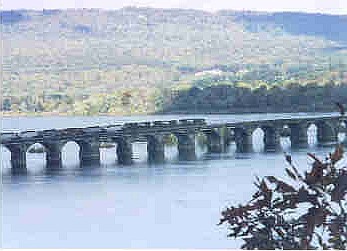 After an October of rain, the Susquehanna is running about a foot higher than the August photos in the previous page.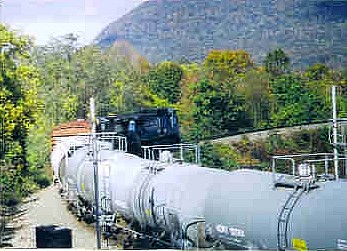 Not only does this idling mixed consist train originating from Enola wait for the coal train, its also has to let a trailer train from the west cross first.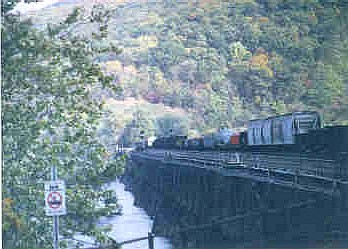 It is not easy to get a straight across shot of bridge traffic these days.


Here is the scene of the Marysville side approaches to the bridge. The subway in the middle allows another set of tracks (perhaps the original Northern Central) from Enola. The structured is labeled "MARY".


...





Rockville and vicinity, Spring 2003



Enola Yard





Rockville Bridge Rails Across the Susquehanna By Dan Cupper



Enola Yard



Back to Cumberland Valley Railroad



Western Maryland Railway and Related Rail Links


Western Maryland Railway Yesterday and Today


World's Greatest Railroads!