=Preston Railroad=

Photos by Art Huneke
---
- August 1956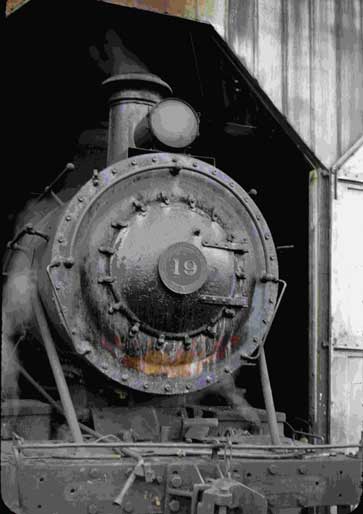 We arrived in Crellin Tuesday morning August 7, 1956. Engine 18 was dead, number 19 was in the enginehouse hot. When the crew arrived we learned this: Normally the train ran Mon., Wed. and Fri. and the engineer and fireman repaired and maintained the locos on Tues. and Thurs. But on Monday the 6th a driving wheel spring had broken and the front of the 19 dropped, breaking off the pilot. They limped back to Crellin and on Tuesday had to replace the spring using large jacks to raise the engine. We witnessed this then photographed them going to Banner Mine light to pick up eight loaded hopper cars. We shot the train enroute and saw them stop just before reaching the B&O at Hutton. They had to "double" the hill, taking four cars at a time which we photographed. They told us or we read that they once had a Shay, tried a C&O 0-6-0 which did not work out and bought the 18 and 19 from the West Virginia Northern. At one time the mile and a half road was ten miles long. I was quite amazed at the operation and the locos. Best regards, Art Huneke

Editor's notes: the 0-6-0 was Western Maryland. Even in 1956, the Preston was longer than a mile and half. At one time it was 40 miles in Garrett County, MD and Preston and Tucker Counties, WV.


Photo taken at Banner Mine. In August 1956, Banner mine had been in operation for about forty years and would be shut down shortly.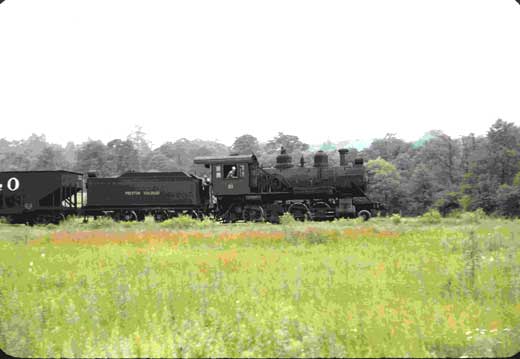 This photo is nearing Hutton as the Preston returns to near Maryland Rt 39. It appears that Harold Lantz is at the throttle and the fireman is enjoying a day in the limelight.


Here the eight hopper train is traveling through downtown Hutton. A tannery once supplied inbound and outbound loads to the Preston at Hutton.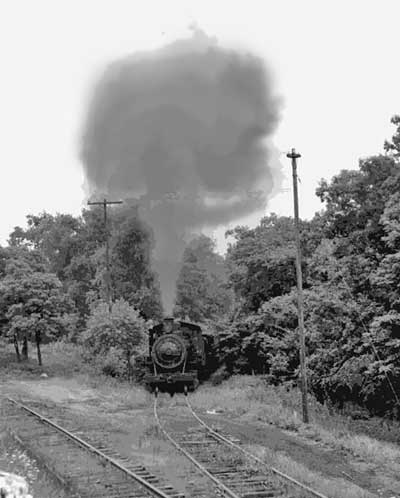 After splitting the train in two behind Sereno's Tavern, the first four loads of Banner Mine coal is pulled into the B&O interchange by No. 19



Back to Preston Railroad page

<
Preston RR Pages-use 'back' to return here
EBT Pages
New! Mountain State Rails-Adams Burns Co-host-use back to return here





Official site of EBT

Friends of EBT
Rockville Bridge Rails Across the Susquehanna By Dan Cupper


Back to Cumberland Valley Railroad
Western Maryland Railway and Related Rail Links
Western Maryland Railway Yesterday and Today
World's Greatest Railroads!