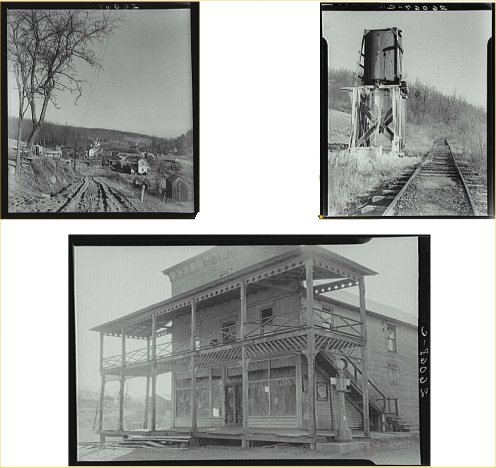 In the photo set above we see a panorama of Jennings looking north (upper left). Upper right is a photo of a rickety water tank, giving a idea of the railroad's state of affairs in 1937. The photographer comments that the train is only running once a week. Bottom photo is captioned by the photographer as the Jennings general store and hotel, which he reports as abandoned.

The Jennings Brother came to Garrett County to log a 7,000 acre tract owned by Joseph Bayard of Harrisburg Pennsylvania, convert it to lumber at a sawmill they built and ship it out on the B&O on a railroad they built. (see Castleman River Railroad). Jennings' sawmill ran a respectable 18 years or so before their timber sources were gone. In the meantime, several other sawmill operators and small coal mines set up along the line and the railroad was separately chartered as the Northern Maryland and Tidewater Railroad. The Depression was hard on the area and the railroad failed several times, finally reorganizing as the Castleman River Railroad. By 1937, the government photographer assigned to document distressed locations referred to Jennings as the "ghost lumber town of Garrett County".

Thanks to Walt Warnick, a descendant of an old Garrett County family ( and a distant relative ) for the website from which these photos were taken see (Library of Congress). Walt's mother states that the railroad did not run south of Jennings after the floods of 1936 took out some bridges. Was there a reload tipple in the Jennings area?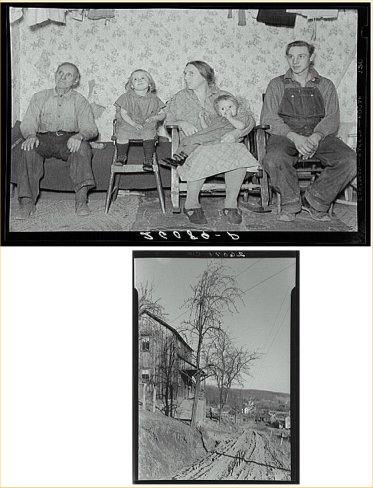 The Melvin Weimer family, the photographer comments that Mr. Weimer was once a properous lumberman, but is now unemployed. Bottom photo is Mr. Weimer home.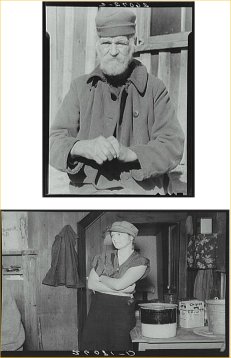 A Bear Hill resident, Cub Ryman is reported to be 94 when this photo was taken in 1937. His daughter is in the lower photo according to the photographer. If this is the case, Mr. Ryman must have been in his seventies when she was born.

Walt Warnick comments:
Cub Ryman was a watchman for the Jennings Brothers Railroad. His house shown in the 1937 photos was purchased in 1940 by my grandfather, Oscar M. Wilt. The house was located about 1/4 mile from a railroad spur. If you travel due south from Jennings, this spur turns sharply west (right) and follows the stream for a couple miles.
It was quite a pleasant shock for my mother to see photos of her childhood home when I discovered these photos on the internet a couple years ago. I showed her the photo of Cub Ryman, as she had told me many stories about him and I recognized his name, and I asked her, without giving her the slightest clue, who this was in the photo. She did not recognize Cub, but she immediately said he was sitting in her old house! We then drug out old photos she had from her time in that house, and we were able to match the exact patterns in the lumber between the photos, thus proving that this was the same house.
My grandfather called a portion of his farm "The Cub Place" in honor of Cub Ryman. This spot retains that name to this day.
Mom met Cub Ryman only once, about 1942. At that time he was clean shaven, and that is why she did not recognize his photo with a beard.
Grandpap tore down this old house when he constructed a new one on his farm about 1950. No one knows for sure who had built the old house, but Grandpap speculated that it had been built by Chauncey "Chance" Hoover who was living there when he died in the 1920s.
Cub's real name was Marvin K. Ryman. In the late 1930s, he and his daughters left the immediate area. A few years ago, his great-granddaughter found me and we have communicated by e-mail. The photographer (Arthur Rothstein) exaggerated Cub's age. He was probably around 82.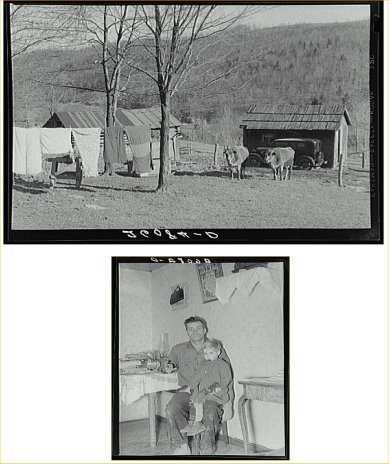 This photo speaks volumes about the self-sufficient Garrett Countians. Here is the Fred Stein place. Note the sparse but neat farm with a split-shingled outbuilding and uncluttered pasture. The inside of Mr. Stein's home appears to be well built with a piece of family heirloom furniture.

Walt adds:
Fred Stein lived on Bear Hill Road about 2 miles south of Jennings. His home was later owned by another family and eventually fell into disrepair and collapsed.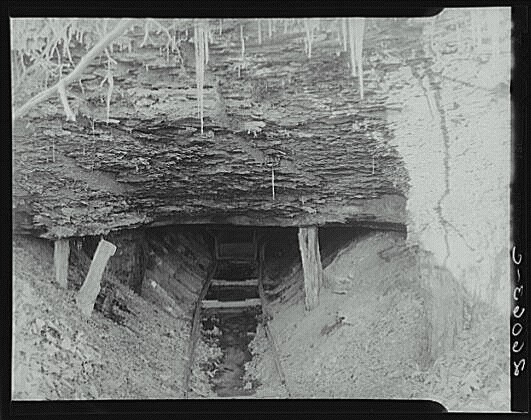 Although photographer Arthur Rothstein does not give the location of this abandoned coal mine, one can guess that it was in the Casselman Valley since it is adjacent to the above photos in sequence.

All photos are from Farm Security Administration - Office of War Information Photograph Collection

Walt Warnick comments:By the way, Rothstein later became quite famous with one of the national photo magazines. A few of his photos are mislabeled on the Library of Congress site, so you have to be careful.It seems safe to conclude that Rothstein was trying to find photo subjects who were especially impoverished


---
Western Maryland Railway and Related Rail Links
Western Maryland Railway Yesterday and Today
World's Greatest Railroads!