=East Broad Top Railroad=

Coles Valley Branch
---
November 7, 2004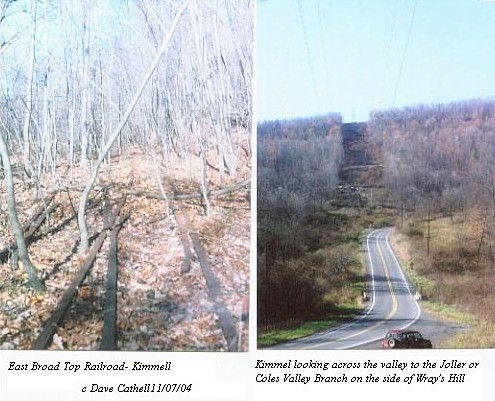 Left photos is the location of Kimmel, just south of Sideling Hill tunnel. The switch is to a passing siding. The right photo is from Kimmel looking west to Wrays Hill. The highest bench visble on the power right of way was the Coles Valley Branch. Coles Valley Branch is sometimes referred to as the Joller Branch, named after the coal mining town of Joller. The Coles Valley Branch left the EBT mainline just uphill from the muleshoe curve at Coles. The branch climbed Wrays Hill at a 2.47% grade for 2 1/2 miles to the crest of Wrays Hill. The branch illustrates the value of the Wrays Hill Tunnel on the mainline. Without the tunnel, the railroad would have to take a longer route (say 5 miles more) and a steeper grade similar to the Coles Valley Branch to cross the mountain.

John Miller and Henry Knepp induced the EBT to build the branch before World War I and the branch lasted until the second World War, after which trucking took over the remaining surface mine operations. According to Coleman, the last houses were leveled in late 1970's. The areas has been reclaimed by the State and is now game lands.


Top photo is the deep cut at the ridgeline for one of two routes to the mines. The bottom photo is remaining foundations, perhaps for the tipple, at the end of this line.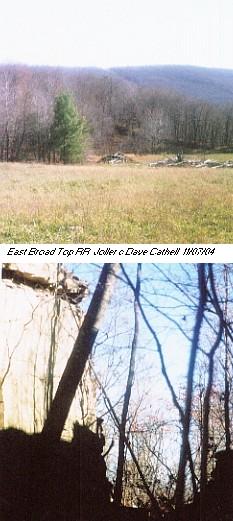 Top photo looks down to the original line into Joller. Bottom photo is the cut in the ridgeline on this branch.



Back to EBT Route page


EBT Pages
Official site of EBT

Friends of EBT
Rockville Bridge Rails Across the Susquehanna By Dan Cupper


Back to Cumberland Valley Railroad
Western Maryland Railway and Related Rail Links
Western Maryland Railway Yesterday and Today
World's Greatest Railroads!