=East Broad Top Railroad=

Sideling Hill
---
November 7, 2004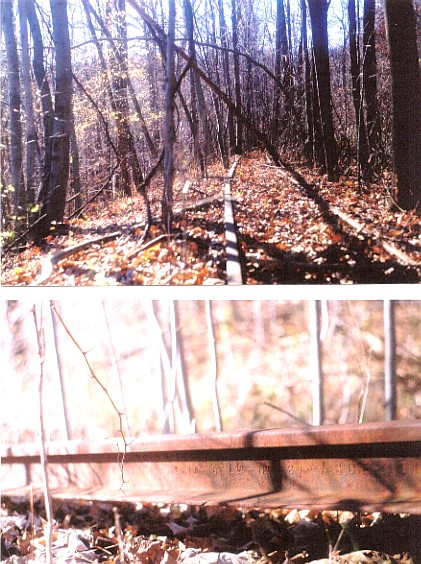 Top photo shows the rails on a large fill downhill from the tunnel. "Fills" are stone and earthen embankments to keep a railroute level in dips, gullies and mountainside ledges. Over the years they obtain the appearance of part of the natural landscape, however they were major construction obstacles. The first problem was to find the fill material. Often the grading contractor had to build a temporary wooden tressle which was subsequently buried with fill material as it became available from "cuts" further along the grade. Other large fills on the EBT include Long Fill north of Rockhill and the Mule Shoe Curve. Coleman reports that the approach fills to the Joller tipples were tressles that were subsequently buried with rubble from the demolition of the Rock Hill iron furnace. Some railroads ended up with a deficit of fill material and had to maintain expensive tressles. The Maryland and Pennsylvania had at least two major tressle collapses due to not replacing wooden tressles in a timely fashion.
Bottom photo is of the rail in this section marked Cambria 86 and the initials ASCE.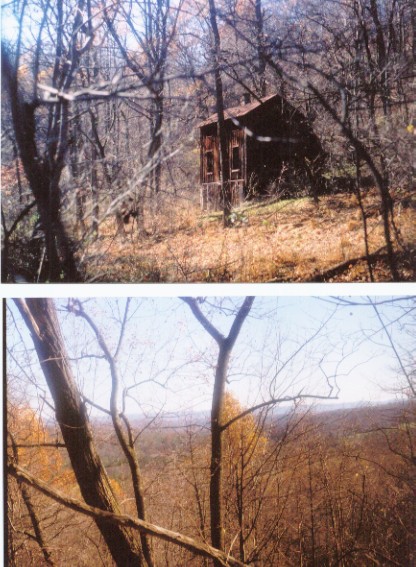 Top photo is a house on the hillside between the railroad and the highway. Bottom photo shows the steep downhill view from the rails. Clear Ridge and Jacks Mountains appear to the East. Sideling Hill, I believe, gets it name from the Maryland portion where the Baltimore Pike (US Route 40) made long "sideling" climbs up both sides the steep mountain. Meshach Browning, in this epoch book "Forty Four Years the Life of a Hunter", describes his trip as a youth in the early 1800's from Frederick County to the mountains west of Fort Cumberland by covered wagon. The wagon ran away on Sideling Hill and the molasses barrel was smashed to bits. Today, Interstate 68 crosses Sideling Hill in this section through a huge cut. SeeBroad Top Geology page.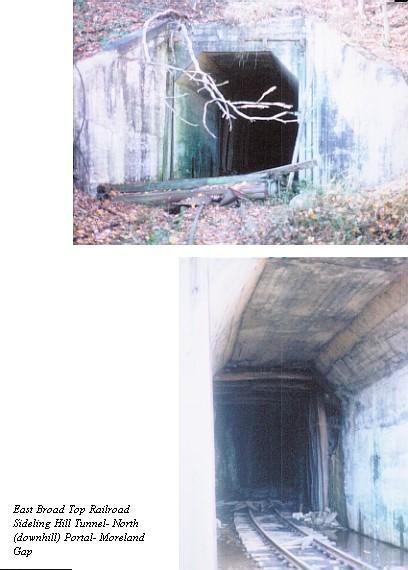 Top photo is the north portal of the Sideling Hill tunnel. Bottom photo shows the inside of timber braced shaft



Back to EBT Route page


EBT Pages
Official site of EBT

Friends of EBT
Rockville Bridge Rails Across the Susquehanna By Dan Cupper


Back to Cumberland Valley Railroad
Western Maryland Railway and Related Rail Links
Western Maryland Railway Yesterday and Today
World's Greatest Railroads!