=East Broad Top Railroad=

2004 Fall Spectacular
---
October 9, 2004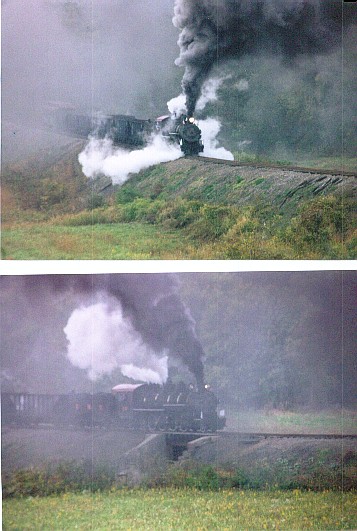 A consist led by Baldwin 2-8-2 #14, seven EBT-built hoppers and a combine is put on display. The use of a combine on a hopper train has historical precedence on the EBT. The location is Long Fill and Runk Road Bridge. The enginemen are putting on a smoke display that somewhat obscured the view downgrade from the bridge when the light wind shifted.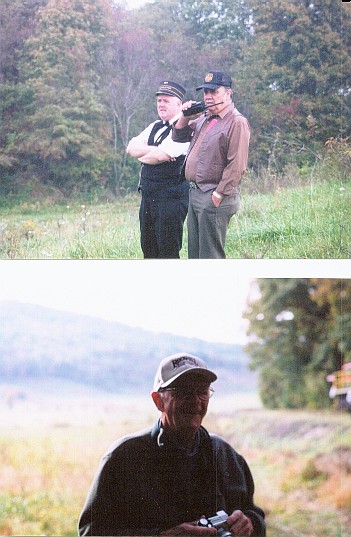 Manager Stanley Hall gives a request to clear up the view as the train proceeds to Colgate Grove to turn on the wye. Mr. Hall was untiring during the day as he worked hard to make the event a success. Bottom photo is Kurt, a railfan from Levittown PA. Judging from license plates in the parking lot, EBT fans from all over were in attendance.


Coming back uphill, the enginemen comply with Mr. Hall's request for a clearer shot.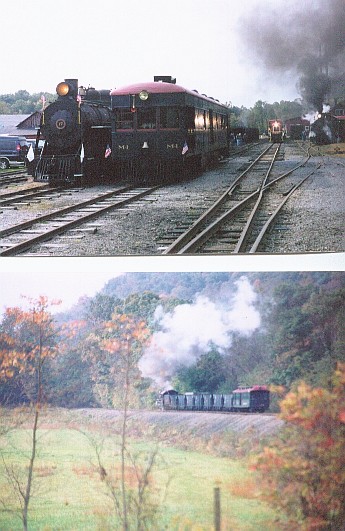 In the top photo, we see the equipemnt used during the day. Starting on the left, #17 was on static display. To the right, M-1 was out for its annual trips. In the background is the GE diesel M-7 that alternated with the #14, and finally to the right we see #14 started another trip to Colgate Grove.



The EBT Route


EBT Pages
Official site of EBT

Friends of EBT
Rockville Bridge Rails Across the Susquehanna By Dan Cupper


Back to Cumberland Valley Railroad
Western Maryland Railway and Related Rail Links
Western Maryland Railway Yesterday and Today
World's Greatest Railroads!