=East Broad Top Railroad=

Rocky Ridge
---
November 7, 2004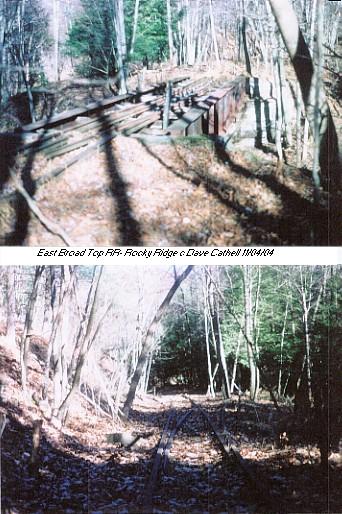 Left photo is the bridge over Great Trough Creek. Right photo shows passing siding to the south of the bridge.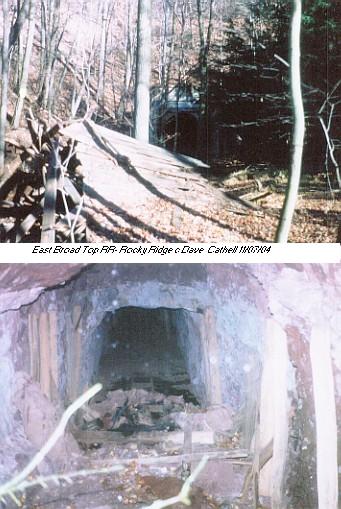 Top photo shows the remains of the two story Rocky Ridge Station. A wye connected the mainline with the Rocky Ridge branch. There should have been another bridge across Trough Creek, but I could not see any evidence of it. Bottom photo is just inside the southern portal of Wray's Hill Tunnel, atop the rubble pile of a cave in. Note that the rock layers are horizontal.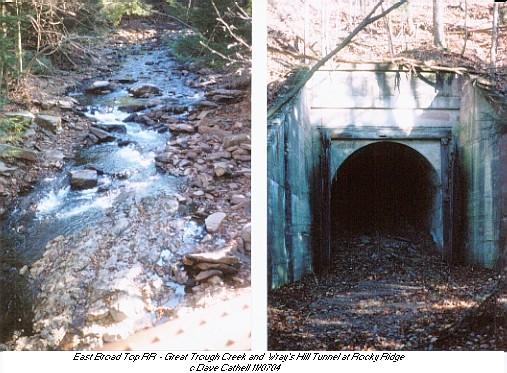 Left photo is from the bridge looking down to Great Trough Creek below. The rock strata in the creek is nearly vertical, demonstrating how quickly the rock layers bend on Broad Top, raising havoc with coal mining efforts. By the way, only a idiot would walk across this bridge. Wear boots and wade the creek!!
Right photo is the south portal, barely visible in the shadows is the rubble of the cave in right behind the portal.
By geological coincidence, Great Trough Creek had over the eons carved into Rocky Ridge to the extent that only about 1,300 feet separated its valley from the lower Roaring Run valley across the ridge to the east, creating a wonderful rail route. Today, a fair sized dam right below this site would send water shooting through the tunnel and down the eastern flank of Wrays Hill for some minor hydroelectric potential ;)

Back to EBT Route page


EBT Pages
Official site of EBT

Friends of EBT
Rockville Bridge Rails Across the Susquehanna By Dan Cupper


Back to Cumberland Valley Railroad
Western Maryland Railway and Related Rail Links
Western Maryland Railway Yesterday and Today
World's Greatest Railroads!