Platt served on two ships in the U.S. Navy during the Civil War. One was the U.S.S. Allegheny, a receiving ship, which apparently was a sort of floating boot camp. The other was the U.S.S Aries, a Union blockader that was stationed off of Cape Fear North Carolina while Platt was a 2nd Class fireman on board. Service in the U.S. Navy blockade squadron was one way to avoid conscription into the Army, but was known for low pay and mostly tedious duty. The Aries had been build by the English as a blockade runner to supply the Confederacy but was captured, rebuilt in Boston and sent to Baltimore to round out the crew (most were from Maine, Platt later recalled). While Platt was on board, the Aries was involved in capturing six ships, so his service was less than a plum assignment. One of the perqs of serving in the Navy was the possibility of earning prize money for capturing enemy vessels; Platt applied through an agent for this bonus pay and the agent absconded with Platt's discharge papers; not only did he not get his prize money, his lost papers caused him considerable difficulty in getting his pension later in life. Platt slipped down a gangway and was in the Norfolk hospital when mustered out of the service. This injury would cause health problems the rest of his life. By the way, being part of the Union forces in the Civil War was not necessarily a popular choice in Confederate-leaning Baltimore, however Platt, already a family man, likely volunteered to avoid the even worse probability of being drafted into the U.S. Army.1


In 1849 Platt became an employee of the Baltimore and Ohio Railroad Company at the Mt. Clare Shops near the inner harbor. Today, this site is the home of the B&O Museum. The historic Mt. Clare shops would have had a big demand for machinist and boiler makers as complete locomotives were manufactured there for years. Even though in high demand, jobs in the B&O shops were highly unpredictable. Business recessions would be cause for wholesale layoffs for extended periods. The 1870's were particularly tumultous and violent. After an extended period without work, Platt was offered the chance to transfer to Grafton, West Virginia.

Grafton is at the foot of the eastward climb over the Allegheny ridges and is a junction of important lines to the west and south. Pete Cathell states that Platt went ahead to West Virginia and after getting situated in his new job, he made arrangements for Sarah and the children to travel to West Virginia. The amazing part of the story is where he located his family. One can assume that Grafton was a smoky town in the height of the steam locomotive age. Whether Platt wanted to escape from this smaller version of downtown Baltimore or whether the family needed to locate in a area where they could farm to supplant his income is unknown, but Platt moved his family to the western flank of Laurel Mountain (some say Sinclair, Preston County, others recall Kasson, Barbour County). Because in the age of horse travel, an approximately 20 mile commute to work was not possible, one assumes that Platt had to board in Grafton at extra expense, so economics was not the reason. My opinion is that Platt harkened back to his early childhood in green farmlands of the Eastern Shore and wanted to return to that environment. My father recollected that the family first lived closer to Grafton, Taylor County area. This is suported by a listing of the death of Platt and Sarah's infant son, Thomas Cathell on August 10, 1874 in Taylor County. By 1980, Platt and family were residents of Reno District, Preston County, West Virginia.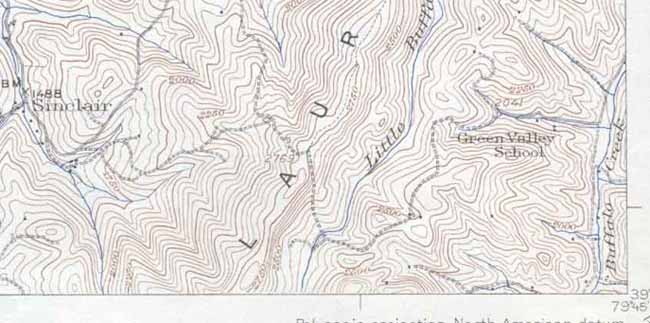 1907 Map of Cathell farms, Green Valley West Virginia. The Cathell homestead is at the "ff" in Buffalo Creek in the lower right. The "hill place" is to the south. Note that by the location of Green Valley School a primitive road heads over the ridge into the Little Buffalo Creek valley and then climbs Laurel Mountain proper, crossing the ridge at 2,769 feet and then heading down to the other side to Sinclair. This could be the route that Platt would have taken in his commutes back and forth to the B&O shops in Grafton.
By 1880's, the older sons were approaching manhood and Platt was in search of more land to homestead, even at the age of 50. He explored even further away from Grafton by crossing the high Laurel Mountain ridge into the pristine Green Valley of Buffalo Creek, Preston County. Platt bought a 225 acre farm in Green Valley along Buffalo Creek on May 27,1882. Perhaps the "hill place" was a previous purchase, as Platt and family are listed as living in Reno District, Preston County in the 1880 census. Pete recalls that Platt told the story that the grass in the meadow was up to the belly of his horse in May in the West Virginia mountains, a sign to Platt of the fertile nature of the soil (of course, Pete would have heard this story from his father as Platt had been dead for almost twenty years before Pete was born.) Platt bought the 225 acre farm from Henry Gassaway Davis, a shaker and mover that among other things had created and built the West Virginia Central and Pittsburg(h) Railroad through the wilderness of the North Branch Potomac and Blackwater River valleys and was a candidate for the Vice President of the United States.2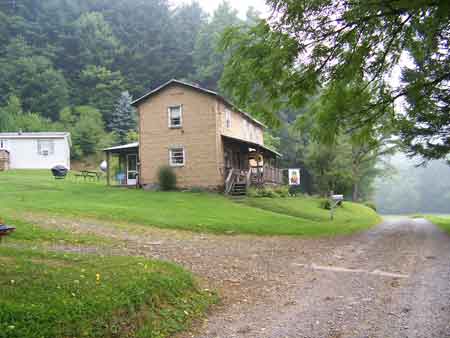 Green Valley, near Etam West Virginia.
Platt Mitchell Cathell home built 1882





The house was built in 1882, probably by Platt and his sons. Construction was a stacked rock foundation and post and beam framing with vertical plank covering. This is the method often used to built barns. The house was more than likely built in haste with materials available from local sawmills but has stood for 125 years. Platt or his sons possibly had built two houses on the "hill place". One was a log cabin (the "old hill place") and the other was a wooden sided home (the "new hill place"). My father recalls a an old photograph in which family members were visiting the abandoned log house. Only foundation remains mark the location of the hill place houses.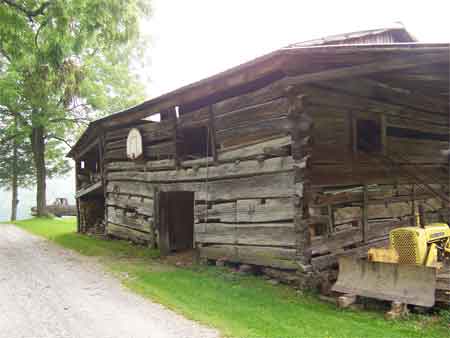 Platt Mitchell Cathell barn built 1882





The barn is of log construction. The bottom logs was from a pre-existing one story barn or cabin that was located nearby, according to Pete Cathell. More than likely built by earlier settlers who did not bother with deeds, the owners had moved on before Platt took possession of the land. The second floor of the barn was built by Platt; notice the logs are smaller and not as finely notched as the bottom.



At his new home on Buffalo Creek, Platt would have had a daunting trip back and forth to Grafton for his work. The often repeated story is that one of the younger children would take a horse and meet him somewhere along his trip back home (perhaps at his former home, where Platt would have had acquaintances). Both then would ride the horse back across Laurel Mountain, a cold and windy location during winter months. One version of this story is that Platt would come home on any weekend, probably Saturday afternoon in those days, when he was working. Apparently, the sporadic nature of railroad shop work continued in Grafton during the rest of Platt's working career. Pete tells a slightly different version; he says that Platt would board in Grafton all of the time he had work, which might be weeks or months. When he was to be laid off or otherwise had time off to come home, Platt would mail a postcard to the family in Green Valley with instruction on what day to meet him with the horse.

Reviewing Census records reveals that many families around Etam were farmers. The farms along Buffalo Creek seem best designed for stock grazing and manual small crop growing sometimes referred to as self-sufficiency farming. It is somewhat surprising to learn that in prior decades most farms were small scale dairy operations which produced cream as the cash crop. Paul Cathell, son of James and Edna Cathell recently explained the business to this author. His family kept up to eight milk cows that were hand milked morning and evening year round. The milk was taken to the spring house where it was separated into cream and skimmed milk. The cream was stored in special milk cans in the cool spring water until full at which time it was taken to Rowlesburg and shipped by train to the Midwest. The skimmed milk was consumed by the family and fed to hogs. The meadows were cut for hay and periodically rotated with crops of oats or wheat. Hay was stacked in the meadow and cattle could be out most of the winter. Small hilly fields of corn or potatoes were raised; the ground was cultivated with a special type of horse-drawn hillside plow for this purpose. These farms certainly were not the highly mechanized farms common in flatter regions, they depended on mostly human and horse labor. Green Valley benefitted from plenty of rainfall and less harsh winters than the nearby ridgetops, which multipled the livestock that could be kept per acre. Steers calves would be raised for home consumption and for sale to those that operated butchering and home meat delivery services (and to later stockyards that were developed). Filling more of the diet of these families were the hogs and chickens that were raised near the house as a byproduct. A large vegetable garden and hunting and gathering(nuts, fruit, honey, etc.)filled out most of the food needs of the family. These days, most of the farms still in production stock beef cattle.

Besides farming, the men, out of necessity, developed skills in logging, construction and carpentry. To build and maintain metal tools, most learned blacksmithing. The women had their hands full with raising the usually large family but was also expected to know how to make and repair clothing and be in charge of food preparation from planting to harvesting, and from preservation (before mechanical refrigeration) to preparation. The wood/coal kitchen range was a major convenience; Sarah Cathell's range is mentioned specifically in Platt's will. Women also were the first aid providers of the day as the doctor from Rowlesburg might be hours away. My grandfather, Clarence Cathell, told an interesting story on how the ladies of the neighborhood stopped bleeding when he cut his leg open with a broad axe as a youth.

Rather than the recurring cycle of poverty and dependency of the coal camps and logging towns, large families were sucessfully raised on the farms along Buffalo Creek with only intermittent sources of cash income. The number of livestock raised on these farms was impressive given the lack of flat land and mechanical equipment. The way of life was not for everyone and some of the children left home early through opportunities in the military, coal mines or the factories of the large cities.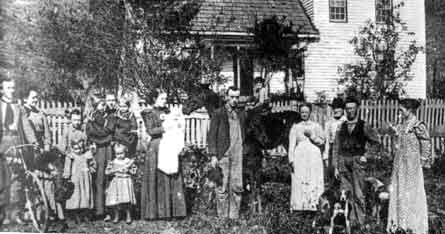 Some Cathell family members-around the turn of the 20th century, perhaps 1905. According to Harley Cathell: Charley is on the left with the bicycle, Will is in the middle and James is to the right of Sarah and Platt. Although the house looks different than today's version of the Platt and Sarah homestead, Pete Cathell confirms that this was the 1882 circa house as built. His father Charley later modified the house to include a full 2nd floor. Other ladies include Mae Cathell next to Charley. Martha Cathell Britton with five children (including two sets of twins), Will's wife with the baby (identified as his first wife but probably his second wife according to the relative ages of the children in the photo) and James' wife on the far right, probably Carrie. Fred Cathell, Rutherford's son, is on the horse. Two fine looking dogs seem to be with James. Photo from Eastern Shore Roots-Harley Cathell.





Outdoor family photographs such as the one above are interesting and rare. This photo was taken before the time of personal photography so it was likely the product of semi professional photographers who traveled the countryside looking for money-making opportunities. A family gathering as shown above was ideal as there were several families who would most likely want a print (6). Demonstrating Platt Cathell's sense of the importance of family history, he specifically mentions the family photographs in his will, entrusting them to Stewart to distribute as he felt appropriate. One wonders how many of these photographs survived.



Platt died in 1910, 2 years after his wife Sarah. I have not heard many stories about Sarah, but is can be assumed that she was a solid person to have endured the hardships of raising upwards of 10 children, often alone in West Virginia, far from her home. Platt is said to have died from complications of Shingles. Shingles is an illness related to Chicken Pox and involved a rash on the body. It was thought that when the Shingles completely circled the body, the sufferer would die.

Perhaps his early disenfrancisement from the land on the Eastern Shore was reason that Platt divided his farm into nine parcels and gave one parcel to his children upon his death. He is buried in the Etam Methodist Church cemetery.



Children of Platt and Sarah Cathell-use "back" to return to this page from links








| | | | |
| --- | --- | --- | --- |
| Name: Cathell, James Mitchell | Year of Birth 1860 | Year of Death: 1941 | Birth Place: Baltimore MD |
| Spouse:1) Carrie Coburn 2)Annie Turner | Spouse Birth/Death:__________ | Burial:Etam Cemetery | Child:Virgil Cathell |
| Child: Claude Cathell | Child: | Child: | Child: |
| Residence: Preston Co & Belington WV | County: Preston &Barbour | Occupation: | Notes:Died in Rowlesburg with Will Cathell providing information although address is listed as Belington. (4). See photo above. |
| | | | |
| --- | --- | --- | --- |
| Name: Cathell, Steward Hall | Year of Birth 1870 | Year of Death: 1953 | Birth Place: Baltimore |
| Spouse:Cyrena May Lipscomb | Spouse Birth/Death:1871-1952 | Burial:Etam Cemetary | Child: Thomas Oscar Cathell (Ora Peters) 1889-1958 Wall PA |
| Child: Annie L. Cathell Boring (Homer) 1891-1968 | Child: Harry Ervin Cathell (Elizabeth M. Moore) 1895-1970 | Child: Lula Mabel Cathell Lipscomb (Roy) 1894-1963 | Child: Elmer Neal Cathell |
| Child: Orville Ross Cathell- a mispelling in the Census- the same as Arvil Ross | Child: Theodore Platt Cathell (Hazel M Price) 1901-1936 Monongalia Co WV | Child: Boyd Williard Cathell (Carrie Archery) 1903-1992 Wall PA | Child: Stewart Lee Cathell 1905 |
| Child: Goldie Grace Cathell Auvil(Clifford) 1908-1985 | Child: Everett McKinley Cathell (Phyllis Knotts) 1910-1989 | Child: Mary Katherine Cathell Burk(e) (Leo) 1912-1989 | Child: Kenneth Hall Cathell (Mary Peaslee) 1921-1990 Canton OH |
| Child: Arthur U. Cathell | Child:Arvil Ross Cathell (Nellie F. Hovatter) 1899-1964 | Child: Robert W. Cathell | Child:Ruth M. Cathell |
| Residence:Pifer Mt-Tucker County, Green Valley Addison PA (with Boyd) Hepzibah Community (with Harry) | County: Various | Occupation:Farmer | Notes: Cyrena was a daughter or Theodore and Cyrena Minear Lipcomp-Minear's were very early settlers in Tucker County. See photo Cathell reunion and several in Harley's book |
| | | | |
| --- | --- | --- | --- |
| Name: Cathell, William Luther | Year of Birth 1878 | Year of Death: 1956 | Birth Place: Green Valley -Etam, WV |
| Spouse: Elsie M. | Spouse Birth/Death:1883-1959 | Burial:Etam Cemetery | Child: Merle Cathell Wiles |
| Child: Charles Richard Cathell | Child: | Child: | Child: |
| Residence: Rowlesburg WV | County: Preston | Occupation: Engineer, B&O | Notes: Pension card in Early Times in Rowlesburg Area book. See photo above and Cathell reunion |
| | | | |
| --- | --- | --- | --- |
| Name: Cathell, Charles (Charley) | Year of Birth 1880 | Year of Death: 1952 | Birth Place: Green Valley -Etam, WV |
| Spouse: Mable (Mae)Gaines | Spouse Birth/Death:1887-196_ | Burial:Etam Cemetery | Child:Betty (Cathell) Sohn |
| Child: Dolly M (Cathell) Bolyard Dutton 1914-2002 | Child: Gerald (Pete) Cathell, Green Valley, WV | Child: Richard (Rich) Cathell, Chesapeake, VA | Child: Violet (Cathell) Carver |
| Child: Augusta Cathell | Child: Mildred M. Cathell | Child: C. Harold Cathell | Child: |
| Residence: Green Valley, WV | County: Preston | Occupation:Farmer | Notes: bought homeplace from siblings. See photo Cathell reunion |
| | | | |
| --- | --- | --- | --- |
| Name: Cathell, Jane E. | Year of Birth 1862 | Year of Death: 1937 | Birth Place: Baltimore or Cumberland MD |
| Spouse: Thomas Jefferson Spring | Spouse Birth/Death:1851-1939 | Burial:Pisgah Ch. Cemetery | Child: Cora |
| Child: Sarah | Child: Cecil (female) | Child: Mary | Child: Nettie |
| Residence: Knottsville in 1900 (3) | County: Taylor | Occupation: Thomas -house carpenter | Notes: Jane died in Kingwood in 1937. Thomas died in Marion County on 2/13/39 as a widower of Elizabeth Cathell and buried in Pisgah cemetery Smithtown Monongalia Co. WW |
| | | | |
| --- | --- | --- | --- |
| Name: Cathell, John Wesley | Year of Birth June 22, 1872 | Year of Death: August 25, 1951 | Birth Place: Baltimore, MD |
| Spouse: Jane Clarecy Layman | Spouse Birth/Death:_______ | Burial:Concord Church | Child: Callie Cathell Corley |
| Child: Johnnie Cathell | Child: Ralph William Cathell | Child: Daisy Cathell | Child: Howard Cathell |
| Child: Mitchell Cathell (of John, not of Clarence) | Child: Carrie V. Cathell Hill | Child: Ethel D. Cathell Rollins | Child: Myrtle E. Cathell Talbert |
| Child: Bertsell L. Cathell | Child: Wilbur Cathell | Child: Clifford "Bud" Cathell | Child: Blanche Cathell England |
| Child: Nellie R. Cathell Barber | Child: Dolly Cathell Simpson | Child: Sarah E. Cathell Shaffer | Child: |
| Residence: rural Belington WV | County:Barbour | Occupation: Farmer | Notes: John was christened Jonathan but went by John which is on his death certificate (4). John would have been the last child born in Baltimore. See photo Cathell Reunion page |
| | | | |
| --- | --- | --- | --- |
| Name: Cathell, Martha W | Year of Birth 1875 | Year of Death: 1959 | Birth Place: West Virginia |
| Spouse: Felix Britton | Spouse Birth/Death: 1871-1967 | Burial:Etam | Child: Hazel M Fields (Hugh) 1896-1981 |
| Child: Dessie Mae (twin)1)Savage 2) Wright ( Oakey and Claude) 1899-1970 | Child: Bessie Ray (twin) Chidester (Daniel) 1899-1966 | Child: Flossie M. (twin) Corbin (Charles) 1905-1987 | Child: Flora P. Britton (twin) 1905-1941 |
| Child: Walter F. Britton 1902-1977 | Child: Walker E. Britton (Mary F. Gribble) 1911-1993 | Child: | Child: |
| Residence: Green Valley and Kingwood | County:Preston | Occupation: Coal Miner and Lumber Mill | Notes: Felix was an older brother to Harris that married George's daughter Bertha. Photo on Cathell reunion page. |
| | | | |
| --- | --- | --- | --- |
| Name: Cathell, Rutherford H. | Year of Birth 1877 | Year of Death: 1955 | Birth Place: West Virginia |
| Spouse: Grace E. Francis Cathell | Spouse Birth/Death:12/25/1879/1955 | Burial:Lakeside Cemetery CO | Child: Fred Mitchell Cathell--1902 |
| Child: Frank herol Cathell--1903 | Child: | Child: | Child: |
| Residence: Colorado | County: Prowers | Occupation: Farmer | Notes: Married Grace 1899-successfully homesteaded in Colorado and died at his son's home in California. With Grace, lived in Tunnelton before Colorado. Photo on Cathell reunion page. Others in Harley's book |






Etam and Rowlesburg Industry




Cathells in the News!






*********************************************************************







(1)The U.S. Navy's role in the Union victory can be considered equal to the Army eventually prevailing on the ground... however with a fraction of the loss of life. Early on, Lincoln and his advisors had correctly concluded that the South could be starved into submission by a Naval blockade, although it would take some time. The politicians and press scoffed at the "Anaconda Plan" and demanded that Lincoln use ground troops to quickly defeat the Confederates. Every school child knows the outcome of that decision... after years of brutal fighting a half of a million men died, many more were maimed for life, whole sections of the South was laid to waste, and a bitterness was created between the two sections of the country that is only recently healing. Meanwhile, the U.S. Navy (which was basically non-existent at the start of war) swiftly became an effective force; shallow draft coastal steamers and ferry boats were converted into gunboats to strangle the shallow ports along the East Coast and Gulf of Mexico. Many civilians profitted in the Civil War (as is usually the case)however real fortunes were made by both sides over the blockade. The Confederate government more or less let civilians run the blockage to supply both the general population and the troops. There was no shortage of willing participants as only two successful trips could pay for a brand new ship. England got involved by allowing deep draft ships to send supplies to Bermuda, the Bahamas and Cuba... then the Southern shipping companies made the perilous run into Wilmington, Charleston and the other Southern ports. Most were captured after a few trips and these speedy steamboats were bought by the U.S. Navy in Admiralty Court to catch more Southern ships, note that this was the case with the U.S.S. Aries. Several of the U.S. Navy officers who commanded the blockade or who captured Southern ships became the equivalent of millionaires in several months'time through the time honored "prize" system. This system encouraged ships to be captured without major damage and in doing so, many sailors' lives were spared. The South, on the other hand, smugly but incorrectly concluded that the U.S. blockade would be the key to their victory. They believed that England would recognize the sovereignty of the South and defeat the Union blockade to ensure the continue supply of "King Cotton". England never took that step because of the civilized world's repugnance over human slavery. Long before Appomattox, the South's doom was sealed by the effective Union blockade.





(2)To those who study Eastern U.S. rail route history, the fact that Henry Gassaway Davis owed land along Buffalo Creek immediately piques interest. In the 1880's much of West Virginia was virgin forest, as timber had little value without a suitable transportation system. Davis would eventually own thousands of acres of forest land to feed his West Virginia Central and Pittsburg Railroad, however owning land along Buffalo Creek seems unusual as it would have been isolated from his railroad by a number of miles and by a roundabout route (from Parsons down Cheat River and then back up Buffalo Creek would be the most realistic grade). Davis never owned land for no economic reason and he usually did not depend on others to create economic development, he did it himself. One possibility is that Davis planned on building a railroad down Buffalo Creek as a part of his mainline! Although railroad organizers often put large cities in their railroad's name that they never intended to reach, Davis definitely had a desire to reach Pittsburg(h) as an outlet for the coal produced in West Virginia. Crossing Laurel Mountain from a railbase along the Tygarts Valley River into the Cheat River Basin would have the advantage of opening up the upper Preston Coal Field north of Kingwood. The Morgantown and Kingwood Railroad was built to tap this coal field later on and was bought by Davis' business partner, Senator Stephen B. Elkins. But the time that Davis sold land to Platt Cathell and the building of the M&K was separated by many years. More than likely, Davis owned land along Buffalo Creek as a part of larger holdings across Laurel Mountain in Barbour and Taylor County purchased for speculation in the 1870's. Alan Clarke's West Virginia Central and Pittburg Railway book documents many routes that Davis surveyed, but no mention is made of a Buffalo Creek grade. Clarke does mention N.T.Arnold's Belington and Northern Railroad that was planned to terminate in Kingwood, a possibility for using a Buffalo Creek route (a small Belington area connecting railroad was only ever built). Definitely the B&O proposed and later chartered (but never built) a railroad that climbed Laurel Mountain through Sinclair, across Laurel Mountain (probably with a large tunnel) and then down Little Buffalo to Buffalo Creek, Cheat River and north to Pennsylvania. The northern end of this route was built as the Cheat Haven and Bruceton Railroad, but the southern extension died with other planned railroutes in the Golden Age of railroading (for a map of this proposed railroute, see Charles S. Robert's Sand Patch, Clash of Titans). If any company had actually built a mainline railroad over Laurel Mountain into the Buffalo Creek valley, the economic environment of the quiet Buffalo Creek valley would have dramatically changed.
It is possible that Platt might have been acquainted with Davis from way back in their working careers at Piedmont West Virginia.



(3) Source: Eastern Shore Roots, the Descendents of James Cathell, Harley N. Cathell, 2000, self published.

(4) Source: http://www.wvculture.org/index.aspx West Virginia Vital Records Research page, West Virginia Division of Culture and History website

(5) From Internet post of Mrs. Kenneth Cathell "My husband's 2nd great-grandfather was Platt Mitchell Cathell. Platt's father was Mitchell Kershaw Cathell b. abt 1795 DE d. 5 Oct 1869 aged 74 (Baltimore Sun obits) I have been trying to verify the parents and/or find any siblings of Mitchell Kershaw Cathell. Though family history is fairly well documented before and after this generation I have not been able to verify this link. Mitchell's father is given in some histories as a James Porter Cathell b. 2 Jul 1783, a son of Levi Cathell Sr and Rebecca (Porter) Cathell. However, I have found no documentation of this James and 12 yo is a bit young to father a child. He is not named in Levi's will in 1815. Ralph W. Cathell in his work specifically sites the ten children of Levi and Rebecca, all accounted for historically, then goes on to list this James making eleven. Harley Cathell in his work was unable to validate his existence. No wife is ever named. No other children of this James are ever given.

Mitchell Kershaw Cathell consistently gave his place of birth as Delaware. He's first found as Mitchel Cathal living in Broad Creek Hn in 1820, then Dagsboro Hn as Mitchell Cathel in 1830. He married Jane Huffington of and in Delaware in 1832. In 1840 they are found in the city of Baltimore. In all they had nine children. Jane (Huffington) Cathell is in the 1870 census as living at Towson P.O., but her Savings Bank of Baltimore account was inactive for twenty years as of 1901. I have no other history of Jane.

To muddle further the genealogical consequences of the Revolution, Mitchell Kershaw Cathell was named after Mitchell Kershaw b. 24 Dec 1757 DE, the son of William and Betty (Dirickson) Kershaw (who, being widowed, then married Levin Vaughan) Mitchell Kershaw and Joseph Vaughan, half brothers, served in the war with John Platt, a Surgeon's Mate. Thus Platt Cathell gets his name? Mitchell Kershaw was near Jonathan Cathell in Delaware. This Jonathan married Betty Vaughan, widow of Isaac Collins. Trees that I have found show only two children of this Jonathan Cathell in a family with a history of large broods. Also, a James Cathell shows up in Georgia during and after the war, b. in MD d. 1799, supposedly married to a Jane Vaughn (dght of Ephriam) though I believe he was a son of James Jr and Nellie (Dawson) Cathell.

What am I missing? Who actually were the parents of Mitchell Kershaw Cathell and Jane Huffington? Did they have brothers and/or sisters?"

(6) These roving photographers often seemed to be associated with drugstores, perhaps due the the familiarity with chemicals needed for the on-site darkrooms. One of the requirements for these photographers was the ability to write backwards on the negative to identify the photograph. Many could do so, except for "s" and "z". By looking for groups of people, these photographers often photographed history that otherwise might have gone undocumented. For example, sawmills and their logging railroads were the subject of many photographs because of the large crews that could be assembled at one time; the logging railroad equipment (which is of interest to modern day historians) created a visual prop that ensured more sales.

The "Early Times in the Rowlesburg Area" book has an unusual example of this art form. Jedediah and Nancy Britton (the parents of Brittons that married Cathell women) were photographed at their Green Valley farm. Another person in the picture apparently reneged on buying a print and was crudely airbrushed out of the photo, resulting in an eerie ghostly image.

(7) DELAWARE MARRIAGE RECORDS

Kent Co.

Jessie S. Huffington & Catharine Hoffecker - Feb. 25, 1843.
Sussex Co. - John Huffington & Jessifria Fowler - 1804
Sussex Co. - Joseph Huffington & Henrietta Riggin - Feb. 20, 1828.
Sussex Co. - Louisa Huffington & Richard Cornwell - Sept. 22, 1827.
Sussex Co. - Louisianna Huffington (Dtr. of William Huffington, Jr.) & Daniel Cannon - ante 1826
Sussex Co. - Mary Huffington & Isaac Wooten - 1796
Sussex Co. - Mary Ann Huffington & John Knowles - Oct. 31, 1821
Sussex Co. Sarah C. Huffington & James Messick - Oct. 20, 1840
Kent Co. - Sarah Huffington & Jacob Williams - Oct. 26, 1849
Sussex Co. - Silas Huffington & Minty Cornwell - Nov. 8, 1826.
Sussex Co. - Thomas Huffington & Mary Kenartey - Jan. 13, 1807
Zipporah B. Huffington (dt. of William Huffington, Jr.) & Ennolls Todd - ante 1826
Below from duplicate records, but contains added in- formation.
Delaware Marriage Records - Dover, Delaware Archives Sussex Co. - Amelia Huffington to Marvel Prettyman - 154
Page 27
Dec. 26, 1835.
rtew Castle Co. - Catherine M. Huffington to William S. Hinds June 14, 1844.
Sussex Co. - Henrietta Huffington (dtr. of William Huff- ington, Jr.) and Theophilius Anderson - ante 1820 Sussex Co. - Isabel Huffington to Hiram B. Cooper - I Jan. 3, 1839.
Kent Co. - Jacob Huffington to Ann Loatman - Aug. 5, 1831
Kent Co. - James Huffington to Susannah Coverdale March 11, 1807
Sussex Co. - James Huffington to Mary Ann Tindal - Feb. 11, 1839

Sussex Co. - Jane Huffington to Mitchell K. Cathell - Feb. 21, 1832

Source : http://www.leftport.com/pearce/TNG/hufffh/jmhuff06.pdf.

With your help, to be continued




__________________________________________________________



Internet Sources- From Google searches 2007


Notes-Need to classify/verify



1900 Census
Preston County
listed under Stuart (Steward) and May
Arthur U Cathell abt 1899

listed under William L
Charity Cathell abt 1882

listed under Jos. H.
Eunice E Cathelll abt 1872
Perl A. Cathell abt 1890
Edith J. Cathell abt 1892
Dora M Cathell 1894
Earl C. Cathell abt 1897

1910 Census
Preston County
listed under William and Elsie
Merrill Cathell abt 1905
Charley Cathell abt 1908

listed under George E. and Sarah
Florence M. Cathell abt 1890

listed under Charles and Mabel (Charley and May)
Augusta Cathell abt 1907 (Gusty, a visitor to my home in the 1960's ?)

listed under James M.
Virgil Cathell abt 1901

listed under Stewart H. and (Cyrena) May
Arvel Cathell abt 1900 (seen elsewhere spelled Avril ?-if Avril, died Sept 20 1964 Mineral Co WV- retired B&O RR)

listed under John and Jane-Upshur County--assumed to be the same as John Wesley
Daisy Cathell abt 1895
Howard Cathell abt 1904
Mitchell Cathell abt 1904 - spouse was Mary Russie Malcomb-died March 1953

1920 Census
Preston County

listed under John and Jane
Carrie V. Cathell abt 1909
Inez D. Cathell abt 1914
Myrtle E. Cathell abt 1915
Bretsel L. Cathell abt 1916
Bud Cathell abt 1916

(listed in 1930 census--Barbour Co- Under John and Jane)
Blanch Cathell abt 1913
Clifford B. Cathell abt 1918
Dolly P. Cathell abt 1920
Sarah E. Cathell abt 1922
Nellie R. Cathell abt 1922

listed under William L and Elsie
Myrl Cathell (same as Merrill?) abt 1905
Charles Cathell abt 1908

listed under James W. (1861)
Anna Cathell abt 1881 (Annie Turner)
Claude Cathell abt 1909

listed under Stewart and (Cyrena) May
Robert W. Cathell abt 1909
Ruth M. Cathell abt 1918

1930 census

listed under Theodore Platt-Monongalia Co (of Stewart and Cyrena May) Coal miner- died Sept 1936
Hazel M Cathell about 1905-spouse from Maidsville WV
Charlotte C Cathell abt 1925
Harley N Cathell abt 1926
Richard L Cathell abt 1927
Della M Cathell abt 1930

Rita M Cathell abt 1895?

listed under Charles R abt 1908-Preston Co (of _________)
Augusta Cathell abt 1908
Mary L Cathell abt 1926
Jack Cathell abt 1928

listed under Charles (abt 1881) (of Platt and Sarah) and Mabel abt (1888) (May) -Preston Co in addition to above)
Mildred M Cathell abt 1921
C Harold Cathell abt 1924
Gerald L. Cathell (Pete-current owner in 2007 of homeplace) abt 1926
Richard G. Cathell (Rich-resides in Chesapeake VA in 2007) abt 1929

listed under Joseph H. (of Platt and Sarah) and Callie V. ( in addition to above )
William E Cathell-abt 1915
Elsie E. Cathell abt 1916
Dorothy C Cathell abt 1917
Ethel D Cathell abt 1919
T Gordon Cathell abt 1921
W. Donald Cathell about 1924

listed under Thomas O (Oscar)-Preston Co (of Stewart and Cyrena May)
Ora M Cathell (spouse?) abt 1895
Roy E Cathell abt 1915
Thelma E Cathell abt 1917
Mary E Cathell abt 1922

listed under Harry E --Taylor Co (of Stewart and Cyrena May)
Elizabeth Cathell (spouse?) abt 1897
Edwin H Cathell abt 1920
Stewart A Cathell abt 1923
Mary S Cathell abt 1926
Dorsey L Cathell abt 1928

"abt" = about date of birth

source: http://search.ancestry.com



1850 US Census, Baltimore Maryland
8 883 1024 Percilla Cathell 11 F Md
8 883 1024 James R. Cathell 15 M Boiler Maker Delaware
8 883 1024 Platt M. Cathell 17 M Coach Painter Delaware
8 883 1024 Charles Cathell 4 M Md
8 883 1024 Jane Cathell 42 F Delaware
8 883 1024 Mitchel Cathell 53 M Boiler Maker Delaware
8 883 1024 George Cathell 6 M Md
8 883 1024 Rebecca Cathell 9 F Md
Source: 1850 US Census, Baltimore Maryland http://www.rootsweb.com/~mdcbalti/1850censusward8C.htm



__________________________________________________________



Cathell Mitchell, boiler maker, 44 Eager
Cathell Platt M. machinist, 42 e Eager
source Woods' Baltimore Directory for 1856-57 http://archive1.mdarchives.state.md.us/megafile/msa/speccol/sc2900/sc2908/000001/000544/html/am544--58.html



__________________________________________________________

CS71.C36 1972 Records of the Cathell family Cathell, Ralph W. CS71.C36 1988 Cathell, Rangeley, Turner: a family history Turner, James H. Source http://nabbhistory.salisbury.edu/Family%20Genealogies.pdf



__________________________________________________________



Taylor County Deaths
| | | | |
| --- | --- | --- | --- |
| Name: Cathell, Thomas W. | Sex: M | Date of Death: Aug. 10, 1874 | Place: Taylor County |
| Cause: unknown | Parents: Cathell, Platt M. & Sarah | Age 3 mths 18 days | Race: W |
3 18 Taylor County Cathell, P.M. father Source http://ftp.rootsweb.com/pub/usgenweb/wv/taylor/vitals/1853-90deaths02.txt




__________________________________________________________



Cathell, John, Capt. - Died; 29 Dec 1894 - Aged; 71 - PE 5 Jan 1895.
http://www.espl.org/genealogy/notices/Deaths1881to1912.htm
Daniel Wailes/Wales
Will Date: Probate Date: WAILES/Wales, Daniel 8 Apr 1812w. 21 Apr 1812p.
To wife Betsy Wailes. To four children Polly Wailes, Daniel Wailes, John Wales, Elizabeth Wailes, lands and mills, land OLD PLANTATION or MILL LOTT to be sold, 300 acres. To Aaron Meziok/Messick and heirs, exec. To John Cathell Jr., George Cathell, David Cathell of John, James Martin Cathell. John Cathell, the exec. Wit; Thomas Fooks, Leah Fooks, Levi Stevens. 1806-13, 293.
http://www.ocmuseum.org/genealogy/search/will_results.asp

David Cathell Will Date: Probate Date: David Cathell 11 Oct. 1764w. 10 April 1767p. Of Stepney Parish. Wife Elizabeth, EX. To my son John, the land I now dwell called David's Hardship, and ½ of the saw mill and to enjoy the partnership with George Handy. My son David 52 acres Cathells Venture, 100 acres Fooker's Cost–partner William Fookes/Fooks. My brother Jonathan (trustee). My son Levi, 50 acres Cathell's Addition, 100 acres Forest Resurvey. Wit; George Toadvine, Thomas Fooks, Jonathan Cathell..

http://www.ocmuseum.org/genealogy/search/will_results.asp

__________________________________________________________


Elizabeth Farlow Will Date: Probate Date: Farlow, Elizabeth 17 Dec 1784w. 26 Jul1793p.
To son David Cathell, and to his son John Cathell. To grandson Milea Cathell Farlow. To son Levi Cathell. To daughter Matty Porter and Ann. To grandson David Porter. To daughters Elizabeth Porter, Leah Cathell. Wit; Samuel Davis, Todd Livingston, George Livingston. 1790-99, 125.
http://www.ocmuseum.org/genealogy/search/will_results.asp




__________________________________________________________

Henry Davis Will Date: Probate Date: DAVIS, Henry 2 September 1835 w. 20 September 1845 p.
To my daughter, Mary Elizabeth Thomas Davis, lands, west side of Levi Cathell's mill. Witness: Eli Dale, Samuel C. Brattan and Walter Turner. f.300 LPS
http://www.ocmuseum.org/genealogy/search/will_results.asp


__________________________________________________________

James Cathell Will Date: Probate Date: Cathell, James 24 Apr 1772w. 8 May 1772p. To grandson Josiah Cathell, the tract called GEORGE'S PURCHASE, and part of SAFEGUARD. He to be in the care of James Cathell until he becomes of age. To my three grandsons, Josiah Cathell, Laben Cathell and Thomas Cathell. To my son James Cathell, the tract called CATHELL'S CHANCE, 50 acres and JAMES' ADDITION, and the EX. To my grandson David Cathell the son of David Cathell, the tract called CATHELL'S VENTURE 50 acres. To daughters Esther Humphries/Humphryes, Sarah Balden/Bolden? To grandsons, Joshua Cathell and James Cathell, the sons of James Cathell, the tract called MURTEL HILL. To my son David Cathell's children. Wit; Stephen Roach, Daniel Dikes Jr., David Hayman.1769-1783, 99.
http://www.ocmuseum.org/genealogy/search/will_results.asp

John Cathell Will Date: Probate Date: Cathell, John I March 1820w. 31 March 1820p.
To wife Nancy, plantation where I live, and the EX. The property in Somerset County & Worcester County to be sold. Wit; James Fooks, Levi Cathell, Margaret Hillman. MH 431.
http://www.ocmuseum.org/genealogy/search/will_results.asp


__________________________________________________________

John Cathell Will Date: Probate Date: Cathell, John 12 Apr 1808w. 21 Apr 1812p.
To my eldest son John Cathell, tract DAVID'S HARDSHIP, tracts adjacent, a total 550 acres. To son George Cathell, 3 tracts in Somerset County, GREENBRIER, MULONDO FIELD, lands bought of Capt. Joshua Landford in Somerset County adjacent to GREENBRIER; 2 tracts bought of George Pollitt 6 acres and 1/4 part of Saw Mill formerly prop, of James Roach ,dec d in Worcester County ;bonds from Betty Roach and Nelly Roach for lands that fell them by death of their father James Roach in Somerset County and Worcester County, SUMMERFIELD, GOOD LUCK, YOUNGER & THE THURST, 472 acres; bond from Mary Bozman Roach for 80 acres. To son David Cathell, tract SAFEGUARD 1 20 acres, DOVER 50 acres, JAMES PURCHASE 50 acres, MILL SUPPLY, part of tract taken up by David Cathell, who is now deceased and myself and willed to me 80 acres while being 330 acres. To son James Martin Cathell. To daughter Bridget Cottingham Cathell, now married to Rouse Gray, property where they now live. To daughter Betsy Wailes Cathell, now married to Daniel Wailes. To grand-daughter Polly Wailes. The schooner THE LIVELY JOHN, to be sold. Thomas Fooks Sr, Eben Christopher, the EX's. Wit; Henry Turner, William Taylor of Dennis, Samuel Hilman. 1806-13, 293.
http://www.ocmuseum.org/genealogy/search/will_results.asp



__________________________________________________________

Jonathan Cathell Will Date: Probate Date: Cathell, Jonathan 16 Apr 1772w. 1 May 1772p.
To my father James Cathell, part of the tract called SAFEGUARD, GEORGE'S PURCHASE. To my son Daniel Cathell, part of the tract, which is called SAFEGUARD. To my son Josiah Cathell, part of the aforesaid tract, SAFEGUARD. To my son Laben Cathell, the tract called JAMES' DELIGHT. To my son Jonathan Cathell, the tract called MIDLAND. To my son Thomas Cathell, the tract DRISKILL'S FOLLY, 250 acres out of SAFEGUARD. To my wife Sarah Cathell, the EX. The lot in Salisbury to be sold. To Thomas Stanford, for debt due him. To my son James Walker Cathell. To Betty Cathell, the side saddle that was her mothers . To daughters Nancy Cathell and Esther Cathell the property of their mothers. To daughter Mary Cathell. Wit; Joseph Dashiell, James Thompson, David Hayman. 1769-1783, 96.
http://www.ocmuseum.org/genealogy/search/will_results.asp



__________________________________________________________

Levi Cathell Will Date: Probate Date: CATHELL, Levi 13 August 1830 w. 7 May 1839 p.
To my eldest sons, Josiah Cathell and Levi Milborn/Milbourne Cathell, the farm where I live, the lands on Jenkins Neck Road. To my youngest sons, John Shawell/Showell? Cathell and George Washington Cathell, balance of lands. To my daughters, Elizabeth Ann and Maria Cathell. To my wife Nancy Cathell. Witness: William H. Jones, John Jones of McClemmy and William Bruiner. f.142 LPS.
http://www.ocmuseum.org/genealogy/search/will_results.asp

Levi Cathell Will Date: Probate Date: Levi Cathell 2 July 1815w. 14 December 1815p.
To sons Clement Cathell, William Cathell, Haste Cathell and Levi Cathell, lands which include tract Driskill's Folly and 2 acres bought off my brother David Cathell. To sons Daniel Cathell, David Cathell and Alexander Cathell. To daughters Nancy P. Cathell, Patty Cathell and Rebecca Cathell. Son-in-law John Cathell and son Levi Cathell, EX. Wit; James Fooks, William Conely/Conley and John Riches. JBR 146.
http://www.ocmuseum.org/genealogy/search/will_results.asp

Samuel Davis Will Date: Probate Date: Davis, Samuel 27 Sep 1774w. 1 Nov 1774p.
To son Seymour Powell Davis, the lands on the southwest side of the road from William Venable's dam to Snow Hill, except what I sold to John Cathell. To my wife Sarah, who is now pregnant, 1/3rds. To my daughter Mary Davis, lots in Somerset County in Salisbury Town. To daughter Sarah Davis,land in Jenkins Neck, except that bonded to Jesse Fooks Wit; Isaac Dixon, Thomas Fooks, Jesse Fooks. 1769-1783, 230.
http://www.ocmuseum.org/genealogy/search/will_results.asp



__________________________________________________________

Daniel Wailes/Wales Will Date: Probate Date: WAILES/Wales, Daniel 8 Apr 1812w. 21 Apr 1812p
. To wife Betsy Wailes. To four children Polly Wailes, Daniel Wailes, John Wales, Elizabeth Wailes, lands and mills, land OLD PLANTATION or MILL LOTT to be sold, 300 acres. To Aaron Meziok/Messick and heirs, exec. To John Cathell Jr., George Cathell, David Cathell of John, James Martin Cathell. John Cathell, the exec. Wit; Thomas Fooks, Leah Fooks, Levi Stevens. 1806-13, 293.
http://www.ocmuseum.org/genealogy/search/will_results.asp
David Cathell Will Date: Probate Date: David Cathell 11 Oct. 1764w. 10 April 1767p. Of Stepney Parish. Wife Elizabeth, EX. To my son John, the land I now dwell called David's Hardship, and ½ of the saw mill and to enjoy the partnership with George Handy. My son David 52 acres Cathells Venture, 100 acres Fooker's Cost–partner William Fookes/Fooks. My brother Jonathan (trustee). My son Levi, 50 acres Cathell's Addition, 100 acres Forest Resurvey. Wit; George Toadvine, Thomas Fooks, Jonathan Cathell..
http://www.ocmuseum.org/genealogy/search/will_results.asp


__________________________________________________________



SCHEDULE 1. Inhabitants in TOWNSHIP OF THE ISLANDS, in the County of ACCOMAC, State of VIRGINIA, enumerated by me on the 26th day of JULY, 1870.

Post Office: BELL HAVEN T. W. TAYLOR, ASS'T Marshal
TI146 163
Cathell, John S. 46 W/m oysterman $100.00 MD
Cathell, Margaret 27 W/f keeps house
Cathell, Henry W. 3 W/m
Cathell, John C. 8mos W/m
November
http://www.esva.net/ghotes/chincoteague/CHIN1870PART2.htm



__________________________________________________________

RANDOM NOTES FROM THE ORPHAN'S COURT, WORCESTER COUNTY, MARYLAND, BEGINNING FEBRUARY COURT 1806 THROUGH AUGUST 1810.
******THIS PAPER DOES NOT INCLUDED ALL OF THE RECORDS THEREIN FOUND******
FEBRUARY-APRO: COURT 1806
44. 19 April 1806 William Vance binds his son William Vance as apprentice to David Cathell to learn the art and mystery of a carriage maker for seven years, being now fourteen years old.
71. That John Cathell and Thomas Fooks view and value the estate of Stephen Toadvine ward in the care of Josiah/Isaih Toadvine his guardian. Also for Hetty Toadvine in the care of Thomas Carey, her guardian.95. James Cathell orphan of David Cathell.
204. James Cathell view and value. A description of property.
JUNE 1810 COURT
339. James T. Cathell orphan of David Cathell. Eben Christopher guardian.
342. Joshua Cathell now guardian to James T. Cathell.
Liber 29, folio 21.
31 Oct. 1752
FOOKES, BENJAMIN, Stepney Parish, Worcester Co.
To eldest son, William Fookes, Long Acor 100a, where he lives.
To wife, Mary, for widhood, my dw. plntn., 120a of Long Acor,(the remainder belonging to Isaac Robet) & negro girl Tamer.
To son James Fookes, on the d. or mar.of his mother, my s'd dw. plntn., on condition he pay his bro. Thomas Fookes, at age 25, L 20.
To son Jonathan Fookes, negro boy Symon.
To son Daniel Fookes, negro boy Nero.
To dau. Alce Fookes & son Thomas Fookes when he comes to age, each L 10.
To youngest dau., Hickman Booth, [on my wife's d. or mar.], negro girl Tamer.
The residue is to be equ. div. among my 10 chldn: Comfortt, William, Abigaill, Alce, Jonathan, Sabrough, Daniel, James, Thomas, & Hickman Fookes.
Extrs: wife, Mary, & son Jonathan.
Witn: Robert Chambers, Stephn Roach, Joshua Porter.
8 Nov. 1753, sworn to by all 3 witn.
Codicil, 10 June 1753. My debts may be paid out of my crop of corn now growing & the rest to be apprd. in my e. except what will maintain my wife & 3 youngest chldn. till the next crop be made. My friends Stephen Roach & Jonathan Cathell are to be ttees. to look after my 3 sons, Daniel, James, & Thomas Fookes. Son Daniel, after the present crop is finished, may be bound out as he chooses, & my 2 youngest sons, James & Thomas, may live with their mother while they come to age.
8 Nov. 1753, sworn to by both witn., Joseph Porter & Stephen Roach.
9 Nov. 1753, Mary Fookes, the widow, stood to the will.
Liber 29, folio 536 11 Aug. 1755
DRISKELL, MOSES, Sr., Worcester Co., saddler.
To chldn. Rachel Toadvine, William Driskell, Mary Ruark, Comfort Hill, & grnddau. Sarah Brice, 5 sh. apiece
To son Moses Driskell, a bed, & on the d. or mar. of his mother, my dw. plntn. & 225a at the NW end of King Sale.
To son Elgat Driskell, a bed, & on the d. or mar. of his mother, 125a at the SE end of s'd land.
To wife, Kethrine Driskell, for widhood, all my e. r. & m.
Witn: James Cathell, Sr., Jonathan Cathell, James Cathell, Jr.
5 Nov. 1755, sworn to by all 3 witn.

Abstracts of Wills
by Carson Gibb
abstracted from PREROGATIVE COURT
(Wills)
MSA S538
Liber 29 1753-1755


__________________________________________________________

http://www.msa.md.gov/msa/stagser/s500/s538/html/s538-29.html


Cathel, John S. to Margaret Young - Date of Marriage; 27 Apr 1882 - PE 18 May 1882.
Cathell, John S. to Mary A. Sharpley - Date of Marriage; 27 Dec 1892 - PE 7 Jan 1893.
Cathell, Lewis to Annie Dennis - Date of Marriage; 10 Jan 1905 - Daughter of S. B. Dennis - PE 14 Jan 1905.
Cathell, Washington to Jane Clayville - Date of Marriage; 6 Jul 1890 - PE 12 Jul 1890
Eastern Shore Marriage Notices: 1881-1905
Eastern Shore of Virginia Marriage and Death Notices from Newspapers originated as a project of the Eastern Shore Public Library and, for a brief period at its inception, of the Drummondtown Branch, Association for the Preservation of Virginia Antiquities.
Brooks Miles Barnes, Librarian at the Eastern Shore Public Library, conceived and edited the project.
Barnes and Deloise Custis, an employee of the Drummondtown Branch, APVA, compiled the marriages and deaths.
The task covered the dates from 30 Jun 1881 to 31 December 1905.
Barry M. Miles, assisted by Leslyn Miles, undertook the Herculean task of converting to html the 3x5 cards on which the data was originally recorded. Thanks to Mrs. Ellen Outten for proofing the death records.
The marriage and death notices were abstracted from original and microfilm copies of various newspapers and cover the period through 31 December 1905.
The Accomac Court House Peninsula Enterprise has been thoroughly abstracted from 30 June 1881 through 1905.
http://www.espl.org/genealogy/notices/Mar1881to1912.htm



__________________________________________________________

MARRIAGE REFERENCE Roberts, ia&ry E. M James R. Cathell
Remarks: Baltimore
Date of Marriage: 1865, December 26
Reference: State Record of Marriages:
Baltimore City, p.30

Delaware 1827.
0159. Levi Cathell states that he and his wife, Priscillia, are residents of Worcester County, Maryland. They inherited twelve slaves through the death of Priscillia's father, who lived in Sussex County, Delaware. Leah, the elder, and Peter are brother and sister; the other ten "are all the Children of Leah." The petitioner seeks exemption from the Delaware law designed to prevent the importation and exportation of slaves and asks permission to remove the twelve slaves from Delaware into Maryland. The slaves would be employed in agriculture. z
RACE, SLAVERY, AND FREE BLACKS: Series I,
Petitions to Southern Legislatures, 1777–1867
http://www.lexisnexis.com/academic/guides/Aaas/SlaveryPetitions.pdf



__________________________________________________________

Will of Moses DRISKELL (1755), Worcester Co. MD
Contributed by Gale
************************************************************************
USGENWEB ARCHIVES NOTICE: These electronic pages may NOT be reproduced in any format for profit or presentation by any other organization or persons. Persons or organizations desiring to use this material, must obtain the written consent of the contributor, or the legal representative of the submitter, and contact the listed USGenWeb archivist with proof of this consent. The submitter has given permission to the USGenWeb Archives to store the file permanently for free access.
http://www.rootsweb.com/~usgenweb
***********************************************************************
Worcester County Will Bk JW-2, pg 154
In the name of God Amen the Eleventh day of August in the year of our Lord one thousand Seven Hundred and Fifty Five. I Moses Driskell Senr of Worcester County Maryland Saddler being sick and weak in body but of Perfect Mind and Memory thanks be given to God therefore Calling into mind the mortallity of my body and knowing it is appointed for all men to die do make and ordain this my Last Will and Testament (that is to say Principally) and first of all I give and recommend my Soul into the hands of Almighty God that gave it - and my body I recommend to the Earth to be buried in Decent Christian Burial at the Discretion of my Surviving friends Nothing Doubling but at the general Resurrection I shall receive the ...?... by the mighty power of God and as touching such Worldly Estate wherewith it has pleased God to (bestow?) on this life. I give Devise and Dispose of in the following manner and form. I give and bequeath to my daughter Rachel Toadvine five shillings current money and she to have no other part or parcel of my estate. Item I give to my son William Driskell five shillings current money as aforesd and he to have no other part or parcel of my Estate. Item I give to my Daughter Mary Ruark five shillings current money as aforesd and she to have no other part or parcel of my Estate. Item I give to my Daughter Comfort Hill five shillings current money as aforesd and she to have no other part or parcel of my Estate. Item I give to my Grand Daughter Sarah Brice five shillings current money as aforesd and she to have no other part or parcel of my Estate. Item I give and bequeath to my son Moses Driskell my Dwelling Plantation and two Hundred and twenty five acres of land at the north west end of my parcel of land called King Sale with all the (rights?) and appertances thereto belonging after the death or marriage of his Mother to him and his heirs for ever. Item I also give and bequeath to my son Moses Driskell one feather bed bedstead and furniture which is already delivered to him and his heirs for ever and he to have no other part or parcel of my Estate. Item I give and bequeath to my son Elgate Driskell one Hundred and twenty five acres of land of the aforesd tract of land being the remaining part of the same with all privileges benefits and appertances after the Death or Marriage of his Mother to him and his heirs for ever. Item I give to my son Elgat Driskell one feather bed bedstead and furniture which is already delivered and he to have no other part or parcel of my Estate. Lastly to my well beloved wife Katherine Driskell my land aforesd with plantation houses and all benefits there to belonging during her natural life or widowhood and also all my movable estate that is not disposed of requiring that she pay all my just debts and have the sole management of all my affairs. Lastly I constitute and ordain this to be my Last Will and Testament In witness whereof I have here unto Set my hand and Seal the day and year above Mentioned.
Moses Driskell (Seal)
Sealed and Acknowledged in the Presence of
James (his x mark) Cathell Sen
Jonathan (his mark) Cathell
James Cathell Junr
On the back of the aforegoing will was wrote the following Probate Viz
November 5, 1755 Came James Cathell Jonathan Cathell James Cathell Junr the subscribing witnesses to the foregoing will and made Oath on the Holy Avangels of Almighty God that they saw the Testator Moses Driskell sign, seal and heard him Publish Pronounce and Declare the same to be his last Will and Testament and that at the time of his so doing he was to the best of their apprehension of a Sound Disposing Mind and Memory and that they Subscribed their names as witnesses to the said Will in the Presence of the Testator and at his request. Sworn beforn Benton Harris Deputy Commissioner of Worcester County
http://ftp.rootsweb.com/pub/usgenweb/md/worcester/wills/driskell-m.txt



__________________________________________________________

Muster Rolls and Other Records of Service of Maryland Troops in the American Revolution
Volume 18, Page 672
View pdf image (33K)
Cathell (Cathel), James, 21, 94.
Cathell, Josiah, 21.
Cathell, Laban, 22,
Cathell, Levi, 21.
http://archive1.mdarchives.state.md.us/megafile/msa/speccol/sc2900/sc2908/000001/000018/html/am18--672.html



__________________________________________________________

Captain Leonatus Wiltshire Cathell of Sussex County, DE set sail in 1856 and, as I understand it, the ship was never heard from again. It appears from the census that his widow, Sarah (Saunders) Cathell did not marry again any time soon as a Sarah Cathell of the right age is shown in 1860 and 1870 as a "mantua maker". Would there have been some kind of court action to declare him dead and probate his estate? How long would a sea-going captain have to be missing before it was suspected that his ship had been lost? I'd like to be able to find out some of the details of the voyage - the date he sailed, specifications of the cargo and destination, etc. - in an attempt to see what may have happened to the ship (storm or whatever), and I'd be interested in whatever the court at that time may have found.
Anyone familiar with the laws regarding men "lost at sea"? Where might the court records be kept? Would there be something in any newspapers? I'd appreciate any suggestions.
http://archiver.rootsweb.com/th/read/LOWER-DELMARVA-ROOTS/2007-06/1181744419



__________________________________________________________

When The Ships' Cannon Roared Off Old Worcester Coast
From: The Maryland Beachcomber, 8/24/79
Found in the vertical file at Worcester County Library; no other info is available.
The following column, copyrighted in 1977 and revised in 1979, was written by Capt. Donald F. Stewart, director of the Five Fathom Lightship Museum in West Ocean City. It is replete with references to Ocean City area topographical features which no longer exist. Assowoman Inlet, for instance, was located in the area from 99th Street north to the Maryland-Delaware line; it has disappeared and reappeared many times in the last 300 years. It was last visible about 1900, after reopening following a storm in the 1880's. The Inlet, the modern spelling of which is Assawoman, has reopened at approximately 100-year intervals since the 1680's. Sinepuxent Inlet stretched for about 2 miles beginning at a point just below North Beach on Assateague Island (in the federal section) less than ten miles south of Ocean City. Sinepuxent Town was a once thriving community on the mainland about a half mile north of the bridge to Assateague Island. It was wiped out in the 1818 hurricane which closed the old Sinepuxent Inlet.
By DONALD F. STEWART
At the beginning of the Revolutionary War, the residents of the Delmarva Peninsula were equally divided in their loyalties. Those remaining loyal to the British Crown, known as Tories, had communicated with elements of the British fleet that were blockading the coast, while patrolling the Chesapeake from Cape Charles to the head of the Elk River.
The sloop of war "Otter" had rendezvoused with Tory leaders in the Pocomoke River, sending in Brown Bess muskets, power, ball and instructions to all residents loyal to King George III.
One of those instructions was: "loyal subjects of His Majesty shall paint a black line, wide enough to be observed, around their chimneys. British troops will distinguish these from the unpainted chimneys of the rebels and all bearing the mark will be treated to great respect and civility to their household and properties."
WITHIN TWO WEEKS after the instructions were received, the rumors spread quickly and by the end of the summer, of 1776, it is said, "every home, shoppe and tavern in old Somersett and Worcester was marked with the band around their chimneys." Because of the closing of Chesapeake ports and the British occupation of Tangier Island, the Maryland Committee of safety selected Chincoteague as the major port of entry along the coast, with the more shallow port at Sinepuxent Towne as the secondary port for the importation of goods and arms; Sinepuxent Towne has long since vanished and was located on the bay behind Assateague Island. In 1776, it had a church, burying ground, a livery, smith, the warehouses and chandler of John Fassett and 27 houses. Of these, only Fassett House, which was on the north end of the town, still stands in 1979 as a residence. The town had two docks capable of berthing ships of nine foot draft; deep draft vessels were anchored off South Point, just north of old Sinepuxent Inlet, which was open to larger sailing ships until 1818, when it was sealed by a hurricane. Both Chincoteague and Sinepuxent were relatively free from surprise attack and both had small batteries of cannon, manned by the local militia, on both the north and south ends of towns. During this period of history, the ships unloading in Chincoteague and Sinepuxent Bays had five escape routes, as inlets existed at Assowoman, Sinepuxent, Spanish Point (now Pope's Island), Middlemoor and Chincoteague.
MERCHANT SHIPS AND PRIVATEERS ran into the inlets on a regular basis by midsummer of 1776. The French brig "Le Comtesse Denery" brought in weapons, spirits and powder to Fassett & Co., from Bordeaux. The Perdeaux Brothers of old Worcester were responsible for the ship being issued a Letter of Marque, authorizing her to seize British ships, in 1778. Many British ships were sent into the anchorage off South Point; their cargoes were hauled overland to Philadelphia and or Baltimore. The more wealthy Worcester County farmers and merchants were aware of the rich cargoes brought in by privateers. Eight ships were registered out of Worcester as privateers during the conflict; the first was the 60-foot "Swallow" of four guns, owned by William Hammond. Her license was issued by the Continental Congress, Marine Committee on March 17, 1777; and by June of the same year, she had taken two rich prizes not 40 miles offshore.
In the spring of 1778, the British blockading squadron was very much aware of the activities at both Chincoteague and Sinepuxent. Two ships were selected to "tame the nest of pyrates." Captain Timothy Hall, R.N., of the 28-gun frigate H.M.S. "Mermaid," was instructed to sail in company with a shoal draft sailing galley, named "Firefly," to destroy Sinepuxent, then south to destroy Chincoteague from the north. The captain of "Mermaid" sent the following message before sailing from Hampton Roads: "I will carry out your orders; my ships will move on the pyrate's nests and I will destroy Sinepuxon and Chincoteague, to their foundations."
AT FIRST LIGHT on the morning of August 3, 1778, the "Mermaid" waited off shore, while the "Firefly" moved north and entered Assowoman Inlet. The attack was planned simultaneously for noon, with the frigate attacking from the south and the "Firefly" from the north.
At South Point, anchored in 22 feet of water, was the Privateer Schooner "Adventure" of Captain Thomas Robinson; anchored next to her was the ship "Elizabeth" of Plymouth, which had been taken, in the Gulf Stream, and brought in the prior afternoon, as a prize of war. The sloop "Dolphin" was off-loading the large English ship and transporting her cargo to the dock at Sinepuxent Town.
Just before noon, the topmasts of the "Mermaid" were sighted entering the inlet, to the south. Captain Joseph Dashiell and John Cathell were on the deck of the English prize supervising the unloading, when an alarm cannon boomed from the mainland. On orders from the master of the "Adventure," John Cathell ran below to warn the crews of the impending attack.
Before jumping aboard the sloop to escape, Captain Dashiell ordered live coals taken from the galley fireplace on the privateer and dumped down the cargo holds of both ships. As an alarm bell sounded, the men boarded the small sloop, hoisted sail and made for the town. Militiamen and townspeople raced wagons to the small magazine and whipped the horses toward the shore batteries, carrying powder, ball and bar shot. Before the frigate cleared the inlet and entered the bay, the batteries were manned at Fassett and Green Points. The frigate had been slowed by being forced to lower boats to tow the frigate through the inlet, due to a breeze from the northwest.
TOWARD THE NORTH the little "Firefly" heard the sound of firing and believing that the "Mermaid" had started the attack, opened fire at the closest target, Fassett House. They soon became the target, as the shore battery of two long 12s opened on them with bar shot, hitting nothing; but landing close enough for the master to order a rapid retreat.
As the "Mermaid" sailed into the bay, smoke was rising from the privateer and the English prize. Whether in anger at losing two prize ships, or in an effort to close the channel to future navigation, the British captain ordered his ship toward the a two burning ships and fired in a broadside at point-blank range. At that same instant the maintop reported to Captain Hall that he had sighted the flash of bayonetts in front of a large estate on the point and he believed that a battery was secluded, near shore.
On hearing this, Capt. Hall turned his ship, deciding against a run on the town, tacked his ship around and delivered a full broadside in the direction of "Genezer," the Purnell home, on South Point. He did not tarry and headed for the inlet, leaving the two ships sunk in the main channel off South Point.
The "Firefly" returned to the squadron in Chesapeake Bay, while the "Mermaid" stayed off Assateague hoping to take a Yankee privateer or two. Several days later, the Mermaid was off Fenwick when the top sighted two large ships. Captain Hall ordered on more sail, hoisted his colors, beat to quarters and cleared for action. The act was brave enough, but rather foolish, for as he came along side the larger ship, she hoisted French colors and poured a 30-gun broadside into his small ship.
THE FRENCH ARCHIVES tell the final story of the action: "the English 28-gun ship drew along side "Le Fantastique" - 60 guns under the command of Pierre-Andre de Suffren-St. Tropez, capitaine de vaisseau. The ship called "Mermaid" was delivered a broadside from the large guns and secondary battery. The "Le Sagittaire" of 50 guns, under the command of Count Francois-Hector d'Albert de Rions, captaine de vaisseau, delivered another broadside of 25 guns into the frigate as it attempted to make for the Delaware. He was quickly cut off it by the two larger frigates and possibly to save what was left of his crew, he drove his ship hard upon the beach.
He was observed with his men launching boats to make their escape, leaving his ship shattered upon a shoal with the breakers of surf driving her deeper into the bottom on beams end."
The story does not end there for under tons of sand and gray mud just north of South Point are probably a wealth to Revolutionary War artifacts, possibly well-preserved in a time capsule state. It would be all but impossible to salvage these wreck sites as the bottom has shoaled from 22 feet in 1778 to its present depth of less than six feet.
http://freepages.genealogy.rootsweb.com/~fassitt/sinepuxent_doings.html

Editors note: The above story is not considered accurate from serious historians. One email writes " I'm sorry to tell you that the story that you found on the web is mostly fiction. The true story of what happened is that contained on the HMS Mermaid web site and I published the article in the Fall 2007 issue of the Maryland History Magazine. The story you quoted was the impetus for my research into the event. If I come across any Cathells in my research I'll let you know. Thanks for the reply,
Roger Novak

Here is Roger's website

__________________________________________________________

State Agency Series Listing at the Maryland State Archives

Merchants' Magazine and Commercial Review By William B. Dana

370 Mercantile Law Cases.

CHARTER PARTY 
Superior Court—before Chief Justice Jones. New York, June, 1843. Jonathan D. 
Cathell v«. Medad Platt. 
The plaintiff is owner and master of the schooner Sage, and the defendant is a ship- 
broker. The action is brought to recover a balance on a charter-party, under the following 
circumstances :— 
In December, 1841, Mr. Platt received directions from Messrs. J. C. & M. Stevenson, 
of Newbern, N. C., to charter a schooner, and take a load of shingles, lumber, etc., to 
Barbadoes, and other West India ports. Mr. Platt entered into a charter-party with the 
plaintiff, for the use of his schooner; but unfortunately, in drawing up the instrument, he 
put his own name in the wrong place. In reciting the agreement of the charter party, it 
stated as follows :—" It is agreed between Jonathan D. Cathell, party of the second part, 
and Medad Platt, agent for J. C. & M. Stevenson, of Newbern, parties of the second 
part." 
The plaintiff performed his part of the charter, and received a part of the freight-money 
agreed on ; and as soon as he arrived here, the present suit was instituted to recover 
the residue from Mr. Platt. The defendant had abundant evidence to prove that Messrs. 
Stevenson were the real parties of the second part, and that the plaintiff well knew him; 
but it could not be admitted to operate against a written contract. If Mr. Platt had used 
the words " J. C. & M. Stevenson, by Medad Platt, their agent, parties to the second 
part," it would have been perfectly correct, and he could not have been held responsible ; 
but as he transferred the words so as to bear another construction, the chief justice decided 
that he was liable, and a verdict was accordingly taken for the plaintiff for the 
amount claimed—$1,099 73—subject to the exceptions taken as to the construction of 
the charter-party. For plaintiff, D. Lord, Jr. ; for defendant, A. Bradley.

Source: http://books.google.com/books?id=r4QEAAAAQAAJ&pg=PA370&lpg=PA370&dq=jonathan+cathell+jr

MARYLAND INDEXES
(Census of 1870, WI, Index)
MSA S 1634
CATHELL, EBEN
Age: 37 Sex: M Race: B
Birthplace: MD. Locality: NUTTERS
Film No.: M 7263 Page: 600 MSA S 1634-1-613

CATHELL, GEO
Age: 22 Sex: M Race: B
Birthplace: MD. Locality: SALISBURY
Film No.: M 7263 Page: 626 MSA S 1634-1-614

CATHELL, GEORGE
Age: 35 Sex: M Race: W
Birthplace: MD. Locality: NUTTERS
Film No.: M 7263 Page: 597 MSA S 1634-1-615

CATHELL, JAMES
Age: 41 Sex: M Race: B
Birthplace: MD. Locality: SALISBURY
Film No.: M 7263 Page: 626 MSA S 1634-1-616

CATHELL, JAMES
Age: 37 Sex: M Race: W
Birthplace: MD. Locality: SALISBURY
Film No.: M 7263 Page: 623 MSA S 1634-1-617

CATHELL, JOSEPHINE
Age: 12 Sex: F Race: B
Birthplace: MD. Locality: SALISBURY
Film No.: M 7263 Page: 635 MSA S 1634-1-618

CATHELL, L J Age: 34 Sex: M Race: W
Birthplace: MD. Locality: SALISBURY
Film No.: M 7263 Page: 628 MSA S 1634-1-619

CATHELL, LIZZIE
Age: 14 Sex: F Race: M
Birthplace: MD. Locality: SALISBURY
Film No.: M 7263 Page: 626 MSA S 1634-1-620

CATHELL, WM
Age: 35 Sex: M Race: B
Birthplace: MD. Locality: NUTTERS
Film No.: M 7263 Page: 598 MSA S 1634-1-621

CATHELL, WM H
Age: 33 Sex: M Race: W
Birthplace: MD. Locality: SALISBURY

Film No.: M 7263 Page: 638 MSA S 1634-1-622
http://www.msa.md.gov/msa/stagser/s1600/s1634/html/ssi1634.html



__________________________________________________________

Accession Number : AD0756138 Title : Spillway and Outlet Works, Rowlesburg Dam, Cheat River, West Virginia; Hydraulic Model Investigation.
Descriptive Note : Final rept. Feb 68-Jun 69,
Corporate Author : ARMY ENGINEER WATERWAYS EXPERIMENT STATION VICKSBURG MISS
Personal Author(s) : Ables,Jackson H. , Jr. ; Boyd,Marden B.
Report Date : JUN 1970
Pagination or Media Count : 77
Abstract : Rowlesburg Dam will be a gravity-type concrete structure, 271 ft above the floor of the stilling basin and 1695 ft long. Flow regulation will be provided by a high overflow spillway consisting of seven 45-ft-wide bays and six 5-ft-8-in.-wide by 10-ft-high sluices with inverts 221 ft below the spillway crest. Tests were conducted on a 1:20-scale sluice intake model and a 1:60-scale comprehensive model to study hydraulic performance of the spillway, verify the adequacy of the spillway and sluices for both separate and combined-flow operation, verify and/or refine the stilling basin design, study approach and exit channel conditions, evaluate the effectiveness of the water-quality control tower and sluice in selectively withdrawing water from desired levels, and investigate pressures in the sluice intake. (Author)
Descriptors : (*DAMS, HYDRAULIC MODELS), MODEL TESTS, HYDRAULIC EQUIPMENT, FLUID FLOW, WEST VIRGINIA
Subject Categories : CIVIL ENGINEERING
Distribution Statement : APPROVED FOR PUBLIC RELEASE
http://stinet.dtic.mil/oai/oai?&verb=getRecord&metadataPrefix=html&identifier=AD0756138
Search DTIC's Public STINET for similiar documents.
Members of the public may purchase hardcopy documents from the National Technical Information Service.

__________________________________________________________



Cheat River, Route 50 Rowlesburg West Virginia-USGS Data
Preston County, West Virginia

Hydrologic Unit Code 05020004

Latitude 39°19'11", Longitude 79°39'25" NAD27

Drainage area 911 square miles

Gage datum 1,405.00 feet above sea level NGVD29
00060, Discharge, cubic feet per second,
YEAR
Monthly mean in cfs (Calculation Period: 1997-10-01 -> 2006-09-30)
Jan
Feb
Mar
Apr
May
Jun
Jul
Aug
Sep
Oct
Nov
Dec
1997
471.9
3,292
2,670.
1998
5,751.
4,452
6,459
4,107
2,901
4,281
1,434
798.4
266.3
274.5
287.8
797.1
1999
5,583
2,545
5,201
4,154
1,588
253.9
126.4
93.6
210.5
1,256
1,456
2,575
2000
1,382
5,499
3,340.
4,371
2,404
1,506
1,050.
1,104
2,031
557.2
910.9
2,198
2001
2,074
4,702
3,346
4,292
3,115
2,429
3,879
1,039
271.5
142.0
156.1
941.9
2002
2,383
1,524
3,500.
5,929
4,425
1,210.
1,944
422.9
536.0
2,010.
3,987
3,092
2003
2,400.
3,697
6,894
4,163
4,148
4,601
2,278
1,508
4,257
1,819
5,082
3,473
2004
3,003
3,991
6,193
5,629
3,704
3,403
1,042
595.5
1,827
1,209
3,035
3,629
2005
3,544
3,434
5,009
3,407
3,265
485.2
1,108
477.1
159.2
608.7
2,561
2,710.
2006
5,062
1,777
1,680.
4,467
1,588
2,924
2,193
379.3
662.8
Mean of
monthly
Discharge
3,460
3,510
4,620
4,500
3,020
2,340
1,670
713
1,140
928
2,310
2,450

** No Incomplete Data is used for Statistical Calculation


Source http://waterdata.usgs.gov/nwis/monthly/

__________________________________________________________





From: Dictionary of American Fighting Ships, Vol. A, 1991, Navy Department, Office of the Chief of Naval Operations, Naval History Division, Washington, D.C.

ARIES

ScStr:

t. 820;

l. 201';

b. 27' 10";

dph. 15' 8";

dr. 16';

s. 12 k.;

cpl. 90;

a. 4 8" sb., 1 30-pdr. P.r., 1 12-pdr. r.



The first ARIES was laid down in 1861 at Sunderland, England, by James Laing's Deptford yard. Built during the American Civil War in the hope that she would be purchased by persons planning to break the Union Navy's blockade of the South, this iron-hulled, screw steamer was completed in 1862 and sold later that year to Frederic Peter Obicino of London, England. She has resold, apparently sometime in 1863, to the Cuban firm, V. Malga & Cie., of Havana.

Almost no records of her career as a blockade runner seem to have survived, but we know that ARIES did enter that chancy business, for a Confederate report on cotton exports between 1 November 1862 and 31 May 1863 states that she carried 740 tons of cotton out of either Wilmington, N.C., or Charleston, S.C. The number of her voyages to the South is unknown; and, in any case, her efforts to supply the Confederacy ended on 28 March 1863.

Shortly after midnight, lookouts on screw steamer STETTIN-herself an erstwhile blockade runner now, following capture, turned blockader- spotted ARIES off Bull's Bay, S. C ., attempting to slip through the blockade with a cargo of liquor. The Union screw gunboat immediately weighed anchor and gave chase. When the runner was within range, STETTIN opened fire on ARIES and continued the pursuit until shoal water forced her to anchor. At daybreak, STETTIN's commanding officer, Acting Master Edward F. Devens saw that his quarry had run ashore on the south end of Petrel Bank. He immediately lowered two boats, and, ". . . taking command in person . . . went on board and took possession of her as a prize to the U.S. Government." Since the blockade runner was aground astern, Devens had her cargo shifted forward, and the stranded steamer floated free with the rising tide. Devens took ARIES via Charleston to Port Royal where Rear Admiral Samuel Francis Du Pont stated that she ". . . is the most perfect example of a blockade runner we have yet seen- her masts lower in a peculiar way, invented for this very purpose." He ordered her north for adjudication in admiralty court and, since Devens was ill, detached him from STETTIN and placed him in charge of the prize for the voyage to Boston where she was condemned and purchased there by the Navy on 20 May 1863.

While ARIES was being fitted out for service in the Union Navy, Lt. Charles W. Read, CSN. in the prize CLARENCE, captured the bark TACONY, shifted his crew to her as a better vessel; and began a cruise north and off the New England shoreline in which he terrorized Union shipping and frightened Northern coastal cities. To still the clamor of frightened citizens for protection from this "rebel pirate," Secretary of the Navy Gideon Welles sent out a number of warships in pursuit of the commerce raider and promised that ARIES would soon join them. However, before ARIES was ready for sea, other Union warships closed in on Read and compelled him to surrender his force. ARIES was placed in commission at the Boston Navy Yard on 25 July 1863, Acting Vol. Lt. Edward F. Devens in command.

On the day of her commissioning, the screw steamer sailed for Port Royal, S.C., carrying 200 men, marines to help Rear Admiral John A. Dahlgren build up his forces for a renewed attack on Fort Wagner which guarded the seaward approaches to Charleston. After disembarking her passengers, she got underway again for Fortress Monroe, Va., carrying word that Dahlgren's coal had been exhausted and that ". . . a supply can not be forwarded too soon." From Hampton Roads, ARIES proceeded to New York where she took on board 200 more men or the South Atlantic Blockading Squadron, before heading south once more.

After delivering these replacements at Port Royal, she embarked some 100 passengers-mostly either sailors who were too ill to remain in a fighting zone or men whose periods of enlistment had expired. However, during her voyage north, she encountered a fearful storm off Cape Lookout, N.C., on 27 August and suffered engine failure while fighting its waves. The wind was so severe that Comdr. John J. Almy-the commanding officer of Connecticut which chanced upon the disabled ARIES on 1 September-described the weather as worse ". . . than I ever recollect to have seen it in the course of my sea service of more than twenty-one years. " The commanding officer of another Union warship, POCAHANTAS stated that ". . . had the hurricane . . . continued with unabated force much longer this ship [POCAHANTAS] could not have outlived it ...."

CONNECTICUT took ARIES in tow and proceeded via Beaufort to Hampton Roads where they arrived on the 6th. Two days later, the screw steamer DAYLIGHT arrived and towed ARIES to Baltimore for repairs.

Early in November, as the yard work on ARIES was approaching completion, Secretary of the Navy Gideon Welles ordered Devens to proceed in her to the waters off Wilmington, N.C., for duty in the North Atlantic Blockading Squadron. Her first action in this new assignment began at daybreak on 6 December when one of her lookouts spotted a steamer aground on Western Bar near Smith's Island, N.C.

ARIES got underway immediately and headed for the stranded blockade runner which soon proved to be the new British, iron-hulled, screw- propelled steamer CERES which had departed Bermuda on the 3d and had struck bottom while attempting to slip into the Cape Fear River sometime on the night of the 5th and 6th. When shoal water compelled ARIES to heave to, Devens launched two boats which continued on to the blazing CERES.

Upon boarding the prize, the boat parties set to work with fire buckets trying to quench the flames and stuck to the task despite fire from Southern batteries ashore. Meanwhile, the officers in charge of the boats broke into the captain's cabin and found a number of papers which contained highly valuable intelligence. Finally-after realizing that, despite the diligent efforts of the Union bluejackets, the flames were gaining on the bucket handlers-the boat parties withdrew from the British blockade runner and returned to their own ship.

That night, the rising tide refloated CERES, and, early the following morning, observers on the blockaders could see her drifting seaward. A boat's crew from MARATANGO boarded the prize, anchored her in safe water, and-with men from ARIES, VIOLET, and CONNECTICUT-put out the remaining fires. ARIES then towed the erstwhile blockade runner to Beaufort, the prize's first stop on a voyage via Hampton Roads to Washington for adjudication.

After delivering CERES to Beaufort, ARIES returned to blockade duty off Wilmington. At dawn on 20 December, men on board the ship sighted steam rising from a strange vessel, some four miles away to the east, southeast. Shortly thereafter, Union blockader GOVERNOR BUCKINGHAM appeared, closing the potential prize while ARIES joined in the pursuit. As she neared shoal waters, ARIES anchored in four fathoms of water and sent an armed boat bearing a boarding party to the blockade runner. They learned that the stranger was the Confederate blockade runner ANTONICA which previously had won considerable renown under the names LAMAR and HERALD playing a cat-and-mouse game with Federal blockaders as she carried contraband cargo into Southern ports and escaped to sea, laden each time with between 1,000 and 1,200 bales of cotton. The night before she had been taking the part of the mouse as she ran aground while attempting to slip into the Cape Fear River with a cargo consisting primarily of potable spirits. After brief efforts to pull free proved futile, Capt. W. F. Adair, the commander of the steamer ordered his crew to abandon their ship and to head for the nearest land in boats, hoping to reach shore before daylight. However, they were spotted by Union blockader GOVERNOR BUCKINGHAM and captured by that steamer and the Federal tug VIOLET.

Men from ARIES and from several other Union ships remained on board ANTONIA for the next few days laboring in vain to refloat the prize. When rising water in the grounded and damaged steamer's hull made it clear that the effort could not possibly succeed, the Federal sailors finally left the ship on Christmas Eve.

ARIES' next adventure came at the end of the first week of 1864. Shortly after daybreak on 7 January, while his ship was lying within the entrance of Little River, N.C., Devens ". . . discovered a strange steamer standing to the E.S.E., with the U.S.S. MONTGOMERY in chase of her . . . " ARIES immediately got underway to join in the pursuit and gained on the stranger. Weather was bad and, about 8:20 a.m., thick fog settled and hid the fleeing steamer. When it lifted a bit over an hour later, the chase was considerably closer than she had been when last seen. ARIES opened fire, and her shot fell close to the target. This accuracy prompted the blockade runner to haul". . . to the westward . . . ." However, the steamer ran aground close to North Inlet, near Georgetown, S.C.-and her crew escaped to shore. Closing fast, ARIES came to anchor to avoid being stranded herself and ". . . immediately sent two armed boats to board the steamer and get her off. " High surf thwarted their efforts to refloat the prize, so the boats' crews set the vessel afire and returned to ARIES with word that the blockade runner was the Confederate steamer DARE. Unfortunately, ARIES second cutter swamped in the surf during the expedition resulting in the capture of two of its officers and seven enlisted men by Confederate forces. A boat from MONTGOMERY also capsized with the loss of 2 officers and 14 men who were imprisoned.

On the evening of 10 January, orders reached Lt. Devens to send his boats to assist IRON AGE which had run aground that morning while attempting to refloat the stranded blockade runner BENDIGO near Lockwood's Folly Inlet. About midnight, her boats-along with some from MINNESOTA, DAYLIGHT, and GOVERNOR BUCKINGHAM-received the officers and men of the doomed Union screw steamer.

The following morning, 11 January, ARIES joined MINNESOTA, DAYLIGHT, and GOVERNOR BUCKINGHAM in chasing the blockade runner RANGER which was attempting to enter the Cape Fear River with a cargo from Newcastle upon Tyne, England. The Northern ships drove the steamer aground where she was abandoned by her crew. However, their efforts to refloat RANGER as a prize were stopped by Southern sharpshooters ". . . whose fire completely commanded her [RANGER's] decks." Since it was impossible to take possession of RANGER, the Union sailors burned her.

While these actions were taking place, black smoke was spotted in the direction of Shallotte Inlet. ARIES, which had been withdrawn from her station in that quarter the previous night, was sent to investigate. She soon came across ". . . a fine-looking double propeller blockade runner, resembling CERES, beached and on fire between Tubb's and Little River Inlets ...." Once more Southern sharpshooters prevented Union parties from boarding the steamer, extinguishing the flames, and taking possession of the prize.

The next day, after the riflemen had withdrawn, Devens did manage to board the ship and learned that she was VISTA, a sister ship of CERES. However, serious damage to her hull made it impossible to refloat the blockade runner, and her two anchors were his only booty.

ARIES' next lively action came two months later. On 14 March, she and STATE OF GEORGIA drove a large, long, and low side-wheel steamer ashore on the west point of Oak Island, near the Western Bar, off Wilmington. Their approach to the unidentified potential prize which resembled the recently captured North Carolina blockade runner A. D. VANCE-was ended by shelling from Southern shore batteries.

Much of the spring and summer ARIES was out of action undergoing repairs; but she returned to duty off Wilmington in September. On 28 October, she assisted EOLUS and CALYPSO in capturing the English steamer LADY STERLING. Again on the night of 6 November, ARIES ". . . discovered a strange steamer . . .. immediately gave chase, opened fire on the stranger, and threw rockets to the eastward, indicating his course. Nevertheless despite assistance in the pursuit by MARANTANZA and EOLUS and the blockade runner's being briefly stranded, a rising tide and clever seamanship enabled the steamer to escape to safety in Wilmington.

On 3 December, ARIES joined five other ships in shelling blockade running steamer ELLA, which Union blockader EMMA had forced around on Marshall Shoal, Smith's Island, N.C. ". . . placing her in a condition which rendered it impossible to get her off . . . ."

Years of labor and the endurance of tedium by the sailors who manned the Union warships on blockade duty were finally strangling the Confederacy. Not only were more and more blockade runners being destroyed and captured, but joint Army-Navy operations were snatching one seaport after another from the South. As the year 1864 drew to a close, only one major port remained in Confederate hands, Wilmington, where ARIES had served almost exclusively since entering the Union Navy. And, at that time, plans were well advanced for an amphibious attack against Fort Fisher which guarded that last center of Southern maritime activity.

ARIES was in the reserve division of a vast task force which departed Beaufort on 18 December and headed for the mouth of the Cape Fear River. Troops went ashore on Christmas Eve and seriously threatened Fort Fisher; but the Army commander, Major General Benjamin F. Butler, feared that his troops could not cope with the Southern forces that defended the Confederate works. As a result he ordered his men to reembark.

Dissatisfied with Butler's lack of resolution, Rear Admiral David Dixon Porter-the commander of the naval forces in the operation-pressed Washington for a renewed attack. Early in January 1865, a mighty force was assembled for a new effort against Fort Fisher. ARIES, although again assigned to the reserve division, helped to and troops on the 13th and, once they were ashore, supported the troops for the next two days. The defenders finally capitulated on the 15th, shutting off the South from all foreign aid. The Confederacy was now doomed.

After supporting mopping up operations in the vicinity of Wilmington or the remainder of January and all of February, ARIES departed Hampton Roads on the morning of 5 March and headed for Key West, Fla., to join the East Gulf Blockading Squadron. However, when she reached Florida waters, her machinery necessitated her remaining in port undergoing repairs into May. She was then sent to sea to cruise off Havana Cuba, to intercept STONEWALL should that Confederate raider attempt to escape to sea. After STONEWALL's commanding officer, Capt. Thomas Jefferson Page, learned of the end of the war and turned his ship over to Spanish authorities, ARIES returned to Key West. On 1 June, she was ordered to Boston where she was decommissioned at the Boston Navy Yard on the 14th of that month.

Sold at public auction at Boston on 1 August 1865 to Sprague, Soule & Co., the steamer was documented on 12 August 1865 as SS ARIES. She retained her original name throughout a long career in merchant service carrying freight between Philadelphia and New England ports. She was sold in 1908 for scrapping.



***********************

History and Roster of Maryland Volunteers, War of 1861-6, Volume 2

MARYLAND VOLUNTEERS IN U. S. NAVY. 39

NAME.

RANK OR RATING.

DATE OF
ENLISTMENT OR
SHIPMENT.

DATE OF
DISCHARGE.

VESSELS SERVED ON AND REMARKS.

Carr, James

Seaman.

Sept. 5, 1864

June 8, 1865

Alleghany and Tuscarora.

Carr, John

Landsman.

Jan. 31, 1862

Feb. 18, 1863

Island Belle, Port Royal, Pittsburgh and Clara Dolsen.

Carr, John

Landsman.

Feb. 9, 1864

Jan. 20, 1865

Alleghany, Commo. Perry, Wyalusing and Chicopee.

Carr, John H.

Seaman.

May 15, 1863

May 14, 1864

North Carolina and Macedonian.

Carr, John H.

Landsman.

Dec. 20, 1861

Mar. 27, 1863

Princeton, Hartford and Hospital Philadelphia.

Carr, Norman

Landsman.

Aug. 15, 1864

Aug. 14, 1867

Alleghany, Minnesota, Augusta, Potomac, Tallapoosa,

Manayunk, and Ironclads at New Orleans.

Carr, Thomas J.

Landsman.

July 12, 1864

Alleghany, Zouave and Vermont; deserted June 10, 1865.

Carrick, Richard

Landsman.

Oct. 14, 1864

Dec. 17, 1867

Alleghany, Seymour, Vermont, Potomac, Tioga, Mad-

awaska, Susquehanna, Monongahela and New

Hampshire.

Carrigan, Patrick

Landsman.

Aug. 18, 1862

May 17, 1865

Princeton and Powhatan.

Carrol, George W.

Landsman.

April 20, 1864

Aug. 4, 1865

Transferred from 19th U. S. C. T.; Alleghany, Van-

dalia, Massachusetts and Norfolk Packet.

Carrol, Jacob

Landsman.

April 22, 1864

June 3, 1865

Transferred from 19th U. S. C. T.; Alleghany, Po-

tomska and Memphis.

Carrol, Michael

2d Cl. Fireman

Mar. 1, 1865

Feb. 12, 1868

Alleghany and Wyoming.

Carrol, Peter

Landsman.

Feb. 27," 1865

Alleghany, Farrallones and Lancaster; deserted April

28, 1866.

Carroll, Charles

Seaman.

Jan. 8, 1863

Alleghany and State of Georgia; deserted Feb. 4, 1863.

Carroll, Charles T.

1st Class Boy.

Aug. 11, 1862

Sept. 8, 1863

Navy Yard, Washington, Yankee and Princeton.

Carroll, Jackson

Coal Heaver.

Nov. 25, 1862

Nov. 24, 1863

Clara Dolsen and Black Hawk.

Carroll, Patrick

Landsman.

June 17, 1863

Alleghany and Eutaw; deserted Dec. 31, 1863.

Carroll, Pierce

2d Cl. Fireman

Sept. 20, 1864

Aug. 3, 1868

Alleghany, Tuscarora and Ohio.

Carroll, Pierce

Coal Heaver.

April 19, 1861

June 20, 1864

North Carolina, Monticello, Calypso and Savannah.

Carroll, William

Landsman.

Feb. 12, 1864

Feb. 10, 1865

Alleghany, Commo. Perry, Victoria and St. Lawrence,

Carroll, William

Landsman.

May 17, 1864

June 22, 1866

Alleghany, Ino, Mahaska and Vermont.

Carson, R. B.

Seaman.

Oct. 30, 1861

Nov. 14, 1862

Maria Denning and Cincinnati.

Carter, Charles H.

Ord. Seaman.

July 22, 1864

Alleghany, Don, Princelon, Massachusetts and Ver-

mont; deserted Dec. 23, 1865.

Carter, David

Landsman.

April 25, 1864

Mar. 18, 1867

Transferred from 19th U. S. C. T. ; Alleghany, St.

Mary's, Saginaw and Lancaster.

Carter, Edward

Landsman.

July 25, 1864

Alleghany and Jacob Bell; deserted Nov. 2, 1864.

Carter, George

Seaman.

Dec. 22, 1864

Alleghany and Wyoming; died July 21, 1866.

Carter, George

Seaman.

Dec. 5, 1862

Dec, 31, 1864

Alleghany, State of Georgia, Whitehead and Albe-

marle.

Carter, Henry

Landsman.

April 23, 1864

Sept. 4, 1865

Transferred from 19th U. S. C. T.; Alleghany, Prince-

ton and Fernandina.

Carter, Henry

Landsman.

Aug. 11, 1864

Aug. 10, 1867

Alleghany, Brandywine, Aries, Vicksburg, Emma, Ta-

cony, New Hampshire, Aroostook, Vermont, Ascut-

ney and Navy Yard, Washington.

Carter, John

Landsman.

Feb. 24, 1865

Mar. 18, 1867

Alleghany, Independence and Lancaster.

Carter, Samuel

Landsman.

Aug. 7, 1861

Dec. 5, 1861

North Carolina and Connecticut.

Carter, William

Seaman.

Feb. 6, 1865

Alleghany, Hetzel, Aries and Ohio; deserted Aug. 26,

1865.

Carter) William J.

Landsman.

June 12, 1863

July 3, 1863

North Carolina.

Cartledge, William

Landsman.

Jan. 29, 1864

June 12, 1864

Brandywine and Hospital Norfolk.

Carty, Nathan W.

Coal Heaver.

Nov. 9, 1861

Jan. 23, 1863

Princeton and State of Georgia.

Case, Charles

Landsman.

Feb. 9, 1865

Sept. 1, 1865

Alleghany, Constellation, Aries and Ohio.

Casey, W. E.

Landsman.

Jan. 29, 1864

July 17, 1865

Monticello and New Hampshire.

Cassell, George N.

Landsman.

April 15, 1861

Nov. 4, 1862

A.lleghany and North Carolina.

Cassell, James

Landsman.

Aug. 11, 1864

Alleghany, Minnesota, Aries and Calypso; deserted

Aug. 31, 1865.

Cassiday, Thomas

Seaman.

July 7, 1864

Alleghany and Don; deserted Sept. 19, 1864.

Caster, Noel F.

1st Class Boy.

Aug. 17, 1863

Aug. 16, 1864

Alleghany, Nansemend and Alleghany.

Catchell, Platt M.

Landsman.

Oct. 21, 1863

Mar. 29, 1864

Alleghany, Aries and Hospital Norfolk.

Cathell, George

Landsman.

April 22, 1864

July 24, 1866

Transferred from 19th U. S. C. T. ; Alleghany, Prince-

ton, Philadelphia, New Hampshire and Lenapee.

Caulk, Jacob

Seaman.

July 1, 1861

July 25, 1864

Princeton, Monticello and Arkansas.

Caulk, Jacob

Seaman.

Sept. 30, 1864

July 12, 1865

Alleghany, Tuscarora and Princeton.

Caulk, John W.

Landsman.

May 24, 1864

Alleghany, Potomska and Bermuda; deserted July 23,

1865.

Caulk, Philip R.

Seaman.

June 22, 1865

Jan. 23, 1868

Princeton, Yantic, Vermont, Peoria, New Berne and

Vermont.

Caulk, Philip R.

Seaman.

Mar. 25, 1862

Mar. 24, 1865

Princeton, Rhode Island and Santiago de Cuba.

Caution, Samuel

Landsman.

Feb. 17, 1864

Feb. 16, 1865

Alleghany, Commo. Perry, Wyalusing, Chicopee and

Hunchback.

Cavel, Robert

Landsman.

April 23, 1864

Dec. 27, 1865

Transferred from 19th U. S. C. T. ; Alleghany, Potom-

ska, Gladiolus and Santee.


...he descendants of Ambrose Lipscomb (1762-1841) and would very much like to obtain additional information on the Cathell branch. Cyrena May Cathell (1870-1951): that's how her name is given on her grave marker at Etam Cemetery and on several of her children's birth records - she is simply "May" in her 1900 Census listing, and "Serena" in the obit. of her son Harry. Her birth & marriage records, as I recall, have "Alice May." At any rate, she married on 19 Apr. 1899 at Tucker County, W. Va. to Stewart H. Cathell (1871-1953), son of Platt M. and Sarah (Williams) Cathell. Cyrena was the daughter of Theodore Bond and Cyrena Margaret (Minear) Lipscomb. Theodore Bond Lipscomb (1825-1904) was the eldest child of Fielding and Jane (Bond) Lipscomb. Fielding Lipscomb (1802-c.1883) was a son of Ambrose and Winifred (Mardis) Lipscomb. So that's the reason for my interest. Platt & Cyrena (Lipscomb) Cathell had, to the best of my knowledge, a family of 13 children: Thomas Oscar, Anna L., Harry Ervin, Lula Mabel, Elmer Neal, Orville Ross, Theodore Platt, Boyd Williard, Steward Lee, Goldie Grace, Everett McKinley, Mary Catherine, and Kenneth Hall Cathell.
Source: http://genforum.genealogy.com/cathell/messages/45.html


..



Cheat River near Erwin